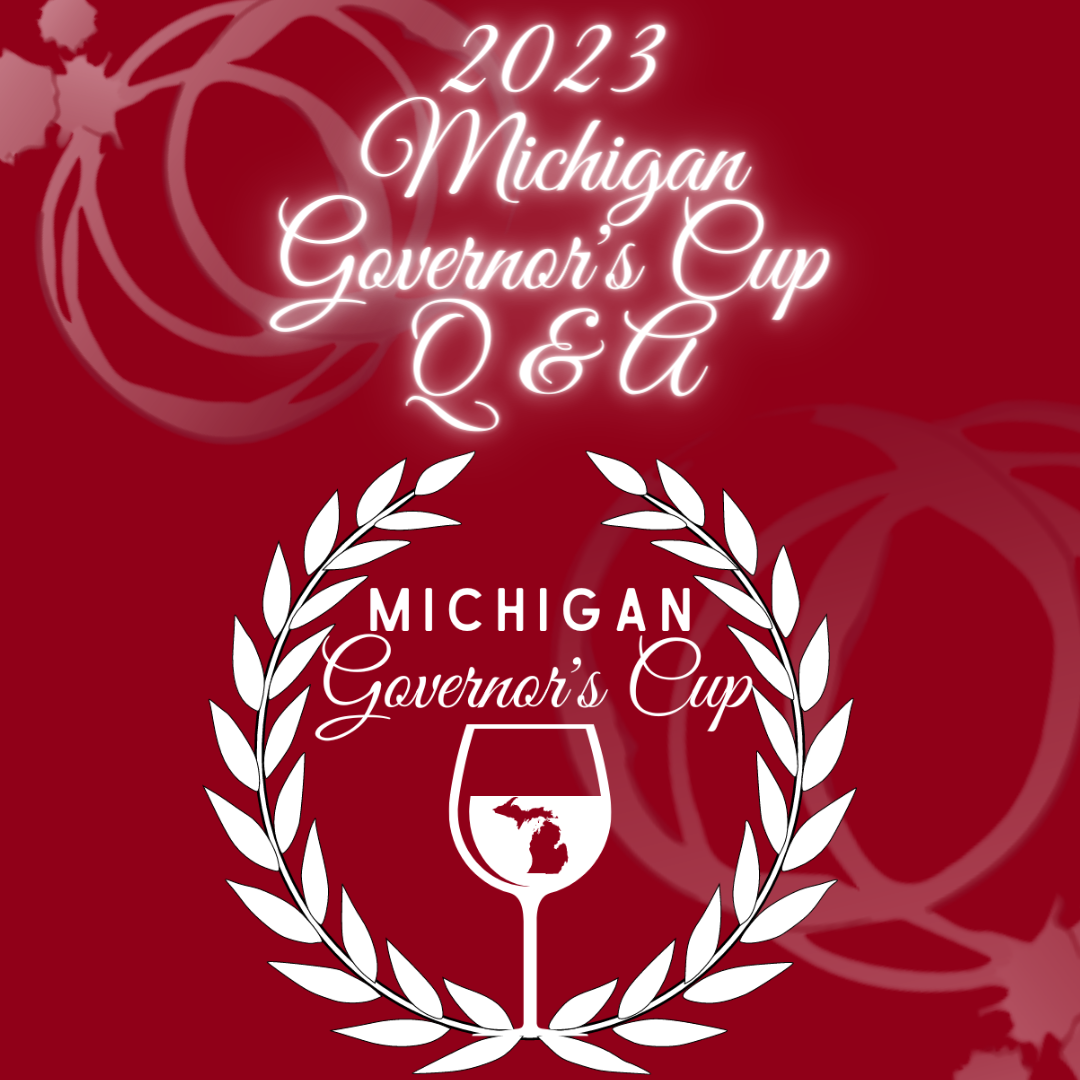 Get the Answers to All Your Burning Questions About the Upcoming Michigan Governor's Cup Here!
2023 Michigan Governor's Cup Q & A
Q. What if my wines are not labeled or released by the submission deadline?
A. Beverage Testing Institute will accept these submissions provided they have a sticker/label with the same information that matches submission form and we (the winery) are able to provide them with a TTB approved label image by the time results/awards are posted.
Q. Why is the deadline so early this year?
A. We knew we wanted to work with BTI because of their expertise and the added value they provide, and this year's dates were what fit into their schedule. Because they spend up to two months evaluating groups of wines and writing tasting notes and constructive feedback, the timeline is different than a traditional 1- or 2-day tasting blitz. That said, in 2024, the submission deadline will be later into the summer so that the current vintage can be included.
Q. Will there be best of show awards?
A. Yes! They will include Best of Category, Governor's Case Winners (highest ranking overall top 5 white wines, top 5 red wines, and top 2 sparkling wines), Governor's Cup (top scoring wine of the entire competition.
Q. What are the qualifications for wine entries?
A. All wines entered must be produced and bottled by licensed Michigan wineries and have a labeled Appellation of Origin of: Michigan, a county within MI, or an approved AVA that lies within MI.
Q. When and where will wines be evaluated?
A. All wines entered will be conducted at BTI's Chicago tasting facility in MARCH 2023 through April 2023 by professional BTI blind wine tasting panels.
Q. What are the categories?
A.
Vinifera Red

Vinifera White

Hybrid Red

Hybrid White

Fortified (Port)

Sparkling Fruit

Sweet/Dessert (R.S. ≥5%)

Specialty Wine

(Mead, Cider, NON-FRUIT FERMENTABLES)
Q. What is BTI's points-to-medals conversion scale?
A. 96-100 – Superlative (Platinum Medal)
     90-95 – Exceptional (Gold Medal)
     85-89 – Highly Recommended (Silver Medal)
     80-84 – Recommended (Bronze Medal)
     79/NR – Not Recommended (No Medal)
Q. How does shipping work?
A. Ship Two (2) 750 ml bottles or equivalent to:
    The Lab c/o OK Imports
    4849 North Milwaukee Avenue
    Suite 303
    Chicago, IL 60630
Q. What are the entry options?
A.
1.) Competition-Only
$100/wine for non-members
$85/wine for MWC members
2.) Full Published Review Option
$150/wine for non-members
$135/wine for MWC members
Q. What is included in the COMPETITION ONLY OPTION?
A.
100-point based score (no tasting note, no published review)

Platinum, Gold, Silver, Bronze winners based on BTI's Points-to-Medals conversion scale*

Emailed award certificate PDFs for each medal winning wine (Non-winning wines do not receive certificates)

Best of Class and/or Best of Category eligibility, certificates provided for qualifying wines

Winery-focused, confidential constructive criticism and feedback from trade buyers

Full results list with final awards emailed to competition committee person at Michigan Wine Collaborative at the conclusion of the competition on May 31, 2023
Q. What is included in the FULL PUBLISHED REVIEW OPTION?
A. EVERYTHING IN THE COMPETITION ONLY OPTION PLUS…
Best of Class and/or Best of Category eligibility, certificates provided for qualifying wines Consumer-facing tasting note

Three-year publication of review on Tastings.com for all awarded wines (will include score, medal, tasting note, pairing suggestions, category info, and more)

"Buy-It-Now" button that links your wines' review page to your e-commerce solution

Exceptional wines will be included in Tastings.com homepage features
Q. How will the wines be judged?
A. Evaluations will be conducted at BTI's Chicago tasting facility in February 2023 through April 2023 by professional BTI blind wine tasting panels. BTI's panels are extraordinary research tools stacked with trade buyers and influencers like beverage directors, sommeliers, retailers, bartenders, and journalists. We train these decision-makers as sensory analysts on our industry-leading methodology and custom software.
Q. What about palate fatigue?
A. BTI limitS flighting to 15-30 samples a day. Tasting more than these amounts in a single day, as most other competitions and many magazines do, negatively affects the accuracy, quality, and consistency of alcoholic beverage evaluations.
Q. What kind of environment will wine be tasted in?
A. To ensure consistency and accuracy, Beverage Testing Institute uses a dedicated sensory lab located in our offices in Chicago. The room is specially designed to minimize external factors and maximize our panelists' concentration. THEY taste in the morning, under the same ideal conditions in THEIR specially designed lab—yielding far more consistent results than working out of a suitcase, a trade show, or at a producer's facility.
Q. Do MWC members get a discount on entries?
A. YES! MWC Members can receive an exclusive code which will allow access to a discounted entry rate. To obtain the code reach out to us via social media dm, email, or by phone. Reach out to us via email HERE!!
Q. Is there a Rosé category?
A. Yes! There will be a rosé category. Wineries can enter wines under the rosé category via the BTI entry portal.
Please feel free to reach out to us at

[email protected]

with any additional questions or if we can help in any way. Thank you for your interest in this event and support of the Michigan Wine Collaborative!