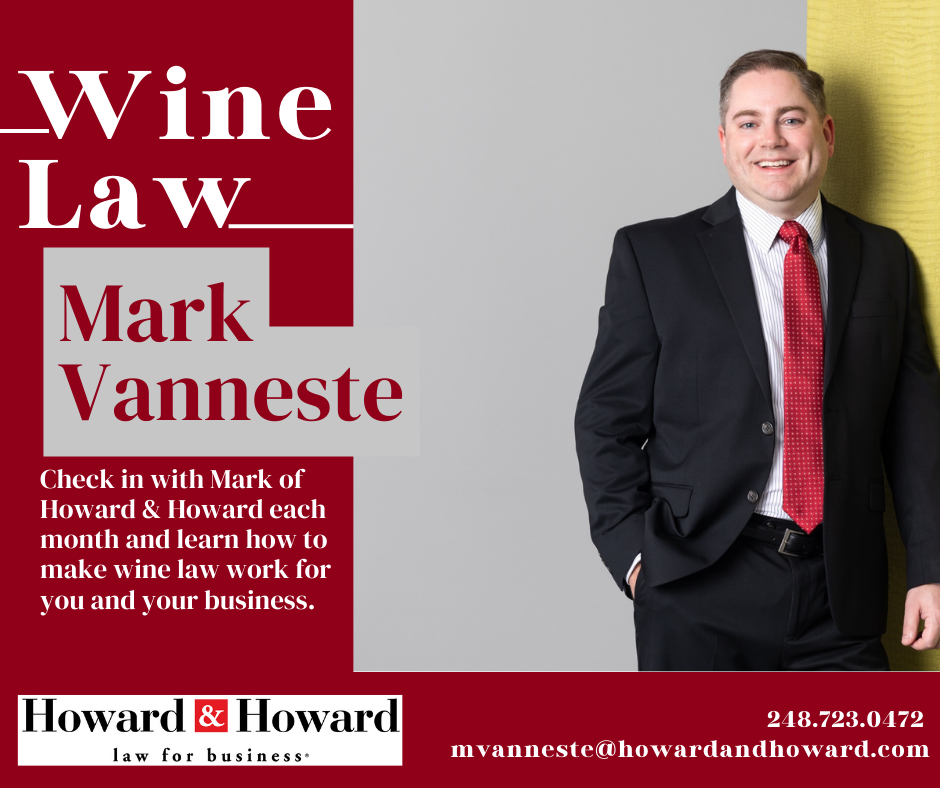 Winery Licensing Process
In the last few editions of the monthly Wine Law article, I described the various licenses available for both manufacturers and retailers.  This month, the article will briefly cover the process of obtaining one of those licenses.  The complexities of Wine Maker and Small Wine Maker licensing can seem daunting.
Exploring Wine Maker Licenses:
A Wine Maker license is issued by the Michigan Liquor Control Commission.  This license allows a Michigan business to manufacture and distribute wine to licensed wholesalers and engage in some self-distribution to retailer licensees.  The license also allows the proprietor to eventually sell wine for consumption off the premises or on it at a designated tasting room located on the manufacturing premises.  To further expand sales avenues, a Wine Maker licensee can sell their manufactured wine at approved off-site tasting rooms, governed by Off-Premises Tasting Room or Joint Off-Premises Tasting Room Licenses.
Small Wine Maker Licenses:
A Small Wine Maker license is specific to enterprises producing not more than 50,000 gallons of wine annually.  Like the Wine Maker license, this license grants the authority to manufacture, distribute, and sell wine to licensed wholesalers, and self-distribute to retailer licensees.  Customers can enjoy this wine either on or off the premises, particularly in an on-site tasting room situated within the manufacturing premises.  Similarly, the Small Wine Maker licensee can extend sales to off-site tasting rooms under Off-Premises Tasting Room or Joint Off-Premises Tasting Room Licenses.
The Application Process:
When embarking on obtaining or transferring licenses, the application process entails the following steps:
Application Form Submission: Complete the relevant application form, be it for a new Wine Maker or Small Wine Maker license, or to facilitate a license transfer.
Inspection Fee Payment: Pay a nonrefundable $70.00 inspection fee for each license requested in the application.
Local Approval: If the intention is to vend wine in an approved on-site tasting room, securing local legislative body approval is a requirement.
License & Permit Fees: The initial and annual renewal fee for a Wine Maker license is $100.00, whereas for a Small Wine Maker license, it's $25.00.
Livescan Fingerprints: Applicants new to the Michigan Liquor Control Commission must undergo the Livescan fingerprinting process.
Property Document: Providing evidence of property control for the proposed licensed premises, involving deeds, land contracts, or lease agreements.
Federal Basic Permit: Furnishing a copy of the federal Basic Permit from the Alcohol and Tobacco Tax and Trade Bureau (TTB).
Purchase Agreement: For license transfers, an executed purchase agreement detailing license and business asset sale must be submitted.
Special Document Requirements for Various Entities:
Different entities entail specific document requisites.  For example, for corporations, the applicant must submit articles of incorporation, certificates of good standing, and certified minutes or statements designating authorized individuals.  For limited liability companies, the applicant must submit articles of organization, operating agreements, and related documentation.  Lastly, for partnerships, the applicant must submit any partnership agreements and relevant documentation.
The Licensing Process:
Application Review: The Licensing Division assesses completeness and appropriate fees, requesting additional documents or corrections if necessary.
Enforcement Division Investigation: The Enforcement Division investigates, conducting interviews if needed.
Commission Evaluation: The Commission evaluates the request considering factors such as operating history, arrest record, and financial standing.
Verdict and Appeal: The Commission either approves or denies the request, with an appeal option in case of denial.
Final Processing: Once approved, the Licensing Division oversees the issuance of license documents.
Wine Maker and Small Wine Maker licensing requirements in Michigan may appear intricate.  It's crucial to work closely with legal experts familiar with Michigan's liquor regulations to navigate this process smoothly and successfully.
Have a wine law question? Reach out to Mark Vanneste of Howard & Howard at: