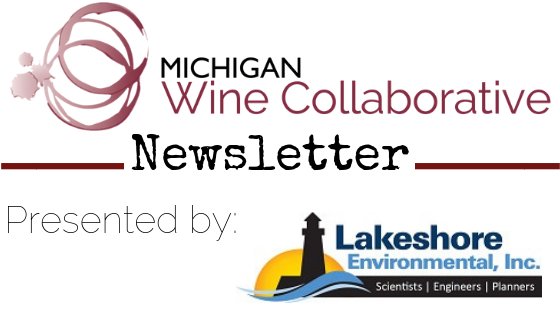 MWC Welcomes Lakeshore  Environmental, Inc. as Our October Sponsor

Lakeshore Environmental, Inc. is a full service environmental consulting firm dedicated to serving our partners in the winery industry through innovative and timely consulting services.
Our team of engineers, geologists, and scientists are passionate about offering proven solutions to keep our clients moving forward, productive, and profitable.
Your LEI team is an industry leader in:
Wastewater treatment & Management: including biological and mechanical systems

Client advocacy & negotiation with DEQ

"Best-in-class" groundwater and surface water discharge permitting assistance

Hydrogeological studies & modeling


Implementing creative solutions to BOD and nutrient loading issues
Click Here to visit LEI on the web. E-mail fellow MWC member Erin Gerber with any inquiries regarding LEI.

Lakeshore Environmental, Inc.is a valued member of the Michigan Wine Collaborative and our first newsletter sponsor. Thank you LEI!
Click Here to inquire about sponsorship opportunities with MWC.
Participants Needed for Cold Climate Survey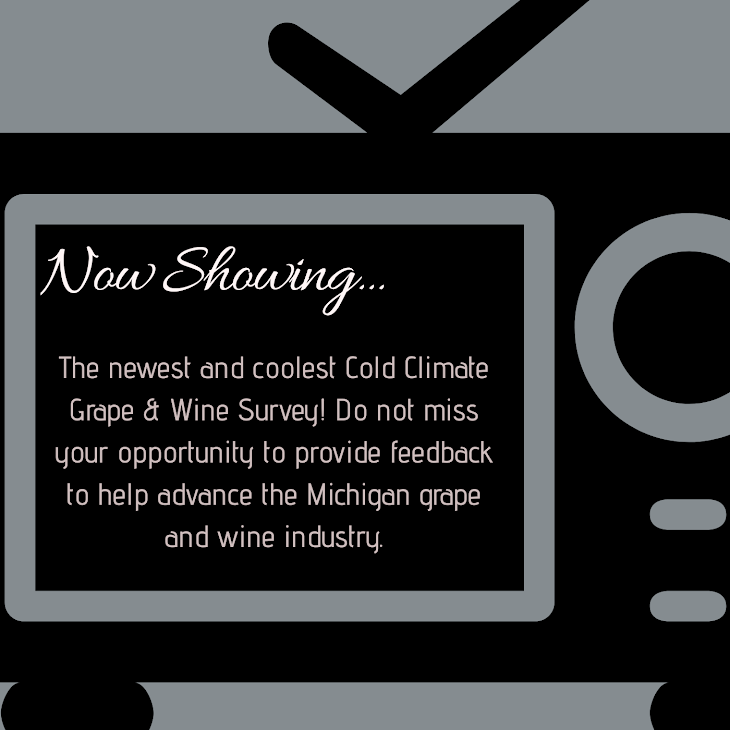 2018 VESTA Wine Sensory Workshop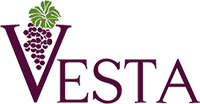 This workshop will benefit winemakers, cellar workers, winery staff, and wine enthusiasts who seek a deeper understanding of these topics and their impact on a winery's success. In addition, workshop attendees will be guided through sensory test methods to access perceived differences and preferences in wine.
Topics include: Welcome and Introduction to Tasting, White Sensory Standards, Red Sensory Standards, and Evaluating Palate Attributes: Alcohol, Acid, and Tannin Wine Defects, Descriptive Wine Analysis of White Wines, Descriptive Analysis of Red Wines, Laboratory Investigating, Wine Competition Methodology and Professional Wine Rating Systems. A certificate will be awarded after the completion of this workshop.
The workshop will be hosted by Chateau Chantal on November 10 & 11. Board member, Cristin Hosmer, will also be offering tours on November 9th of Old Mission Peninsula and Leelanau Peninsula on November 12th. 
To view the schedule and register Click Here!
Michigan Wine Grape Commission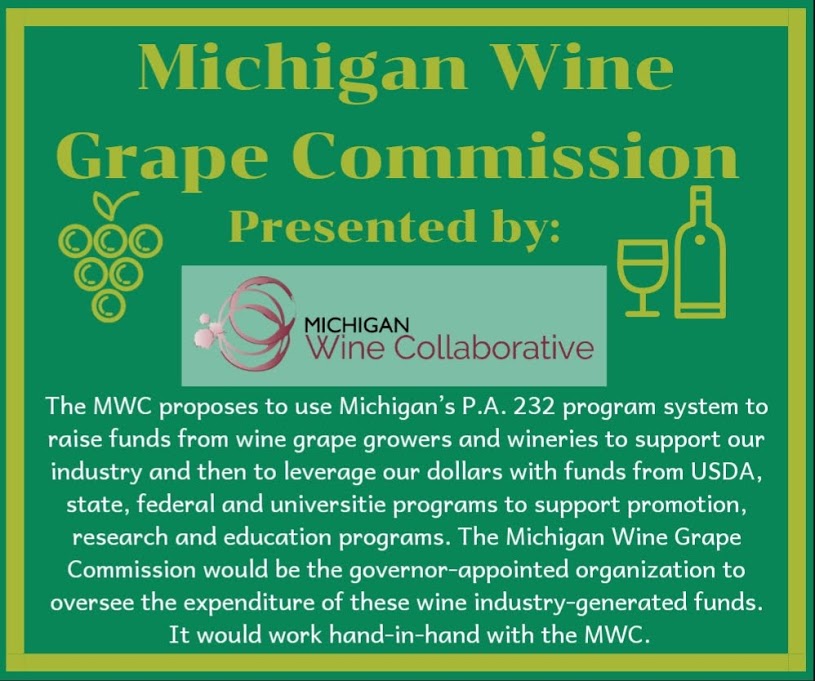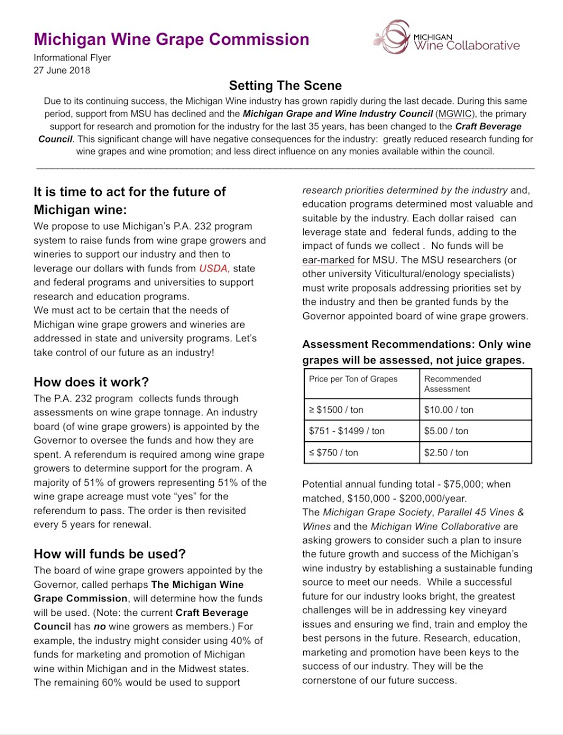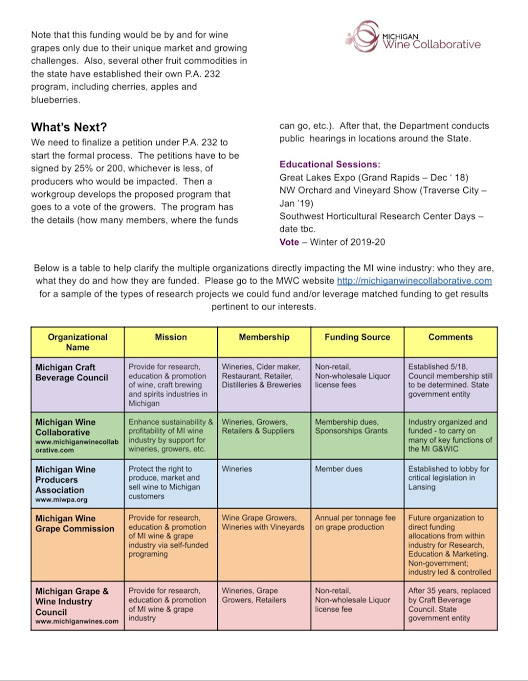 To view, download, or print the document above Click Here!
A Message from MWC President on the Michigan Wine Grape Commission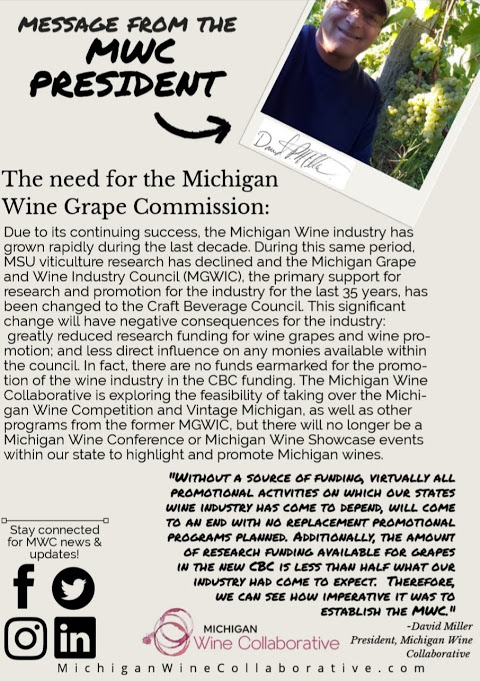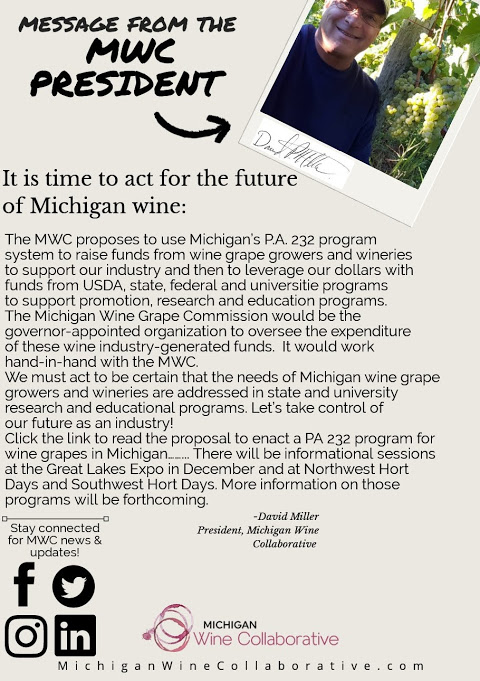 MWC Members Save on EWE Registration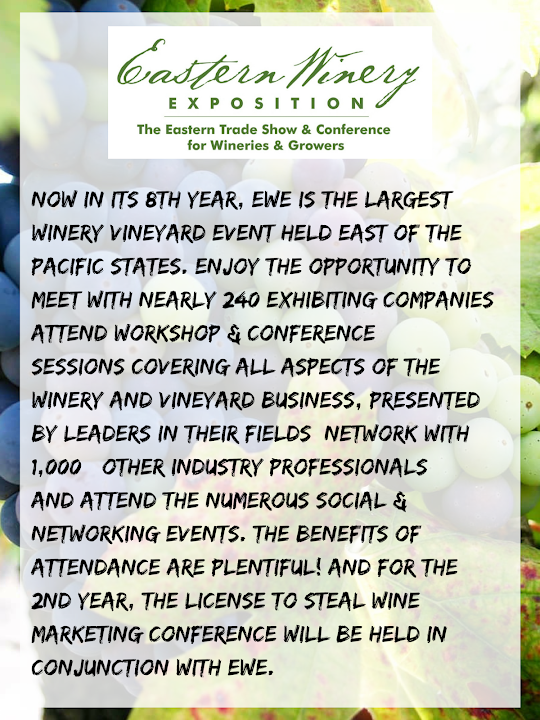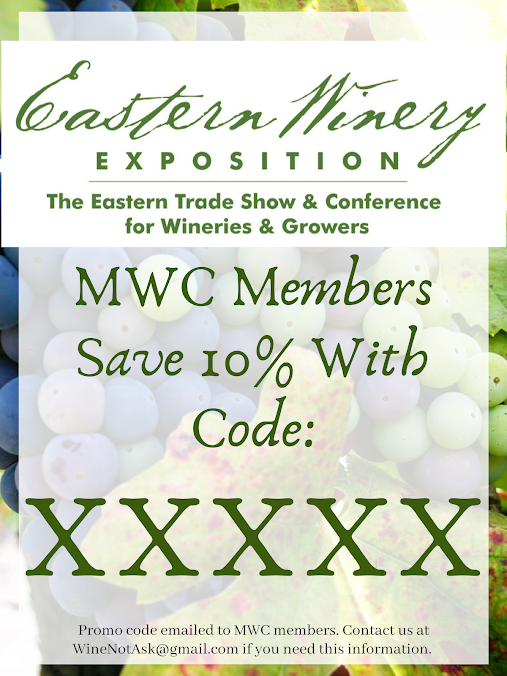 For more information Click Here!
2019 NW MI Orchard & Vineyward Show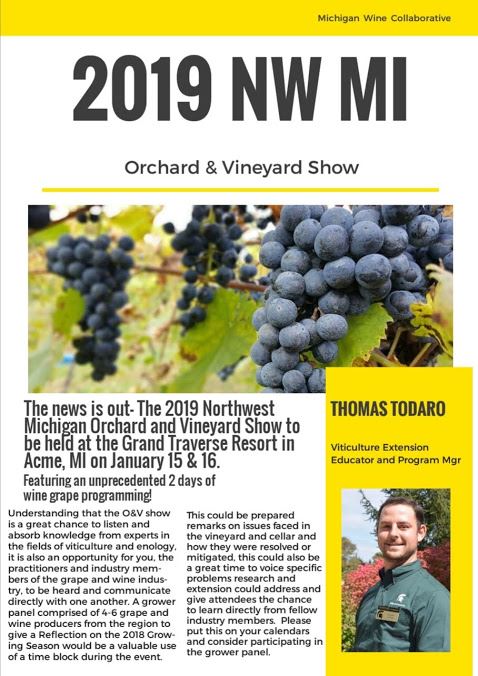 For more information Click Here!
MWC Member Showcase- October 2018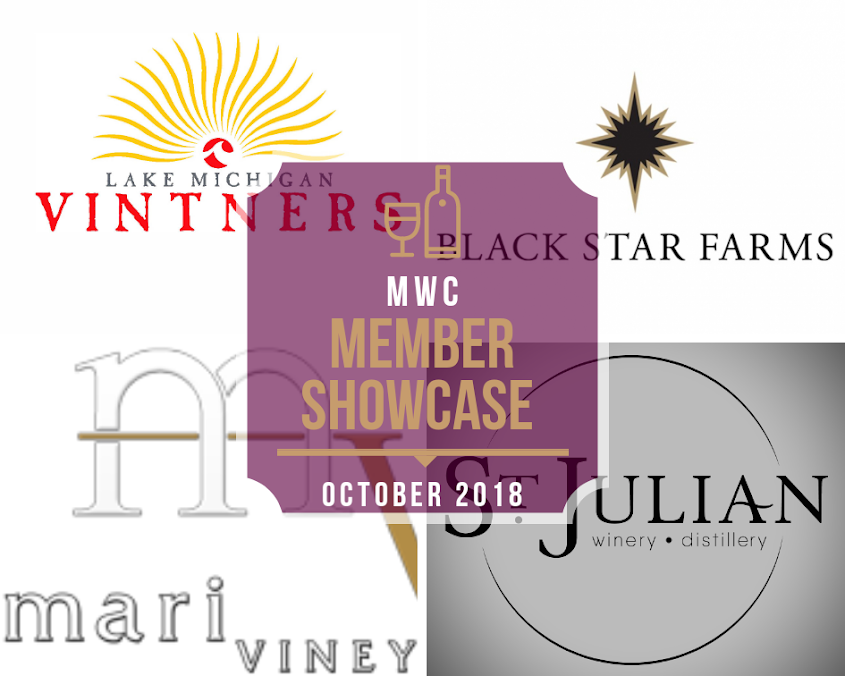 MWC cannot get enough of showcasing our members and their many accolades. This month we are sharing stories from the past month which caught our eye. Know something we don't? Share accolades, achievements, and events with us anytime and we will be happy to share your news! 
Big news from the Lake Michigan College Enology & Viticulture program! This year marks the first harvest of Merlot and Cabernet Franc planted at SWMREC in 2016. The inaugural harvest marks an important milestone in the partnership between the program at LMC and MSU's extension center known as SWMREC. The vines which were planted, maintained, and harvested by the students at LMC are a testament of the sustainability and advancement of the growing program. Mike Moyer, the director of the program, believes this project demonstrates the commitment to quality viticulture as well as quality viticulture training and education. Stay tuned in future newsletters for more updates on the program and students of the LMC Enology & Viticulture program along with updates from the student run tasting room known as Lake Michigan Vintners. 
Black Star Farms was on many of our news feeds the last couple weeks due to their growing accolades. The most recent of these being their performance in the 19th Annual Canberra International Riesling Challenge. In this competition BSF's 2017 Arcturos Dry Riesling won big as Best Wine of the 2018 Challenge. Professional Wine Judge, founder of theInternational Riesling Foundation, and president ofWineAmerica, Jim Trezise noted, "This is a huge accomplishment for them, for Michigan wines, and for American rieslings. The fact that they also won medals for every wine entered is also amazing, showing consistent quality across styles and vintages. I have judged at the CIRC for four years, and it is the most rigorous and competitive event I've experienced. This year there were more than 500 rieslings from several countries, and Black Star Farms came out on top. Congratulations to the Black Star team, and thanks for making America proud."
To read more about this competition and other winning BSF wines Click Here.
MyNorth sat down with Sean O'Keefe of Mari Vineyards last month to chat about red wine production of Northern Michigan. O'Keefe compares the 2016 and 2017 vintages, speaks on the influence of Mari, explores blending, and the Italian varieties planted at Mari. To read the article Click Here.
St. Julian Winery was also in the news last month. This time highlighting their commitment to Michigan grapes and agriculture. Nancie Oxley, Winemaker, credits Mother Nature with grape quality and the pressure placed on producers to be diligent in the vineyard. "Mother Nature has a massive impact on grape quality and she is always throwing us a curve ball," she said in an email. "To catch her pitch, we must be present to observe her effect on our vineyard. I visit each of our growers weekly, walking the rows of each vineyard block to taste how the varietals are progressing through the growing season. Once the 'numbers' look good and the grapes taste 'just right,' we know it's time to harvest. It's where science and the winemaker's artistic style come together." To read the full article Click Here.
And just a reminder, feel free to send us content you think should be highlighted throughout the industry. Please reach out to us here!
Mobile Bottling Gaining Steam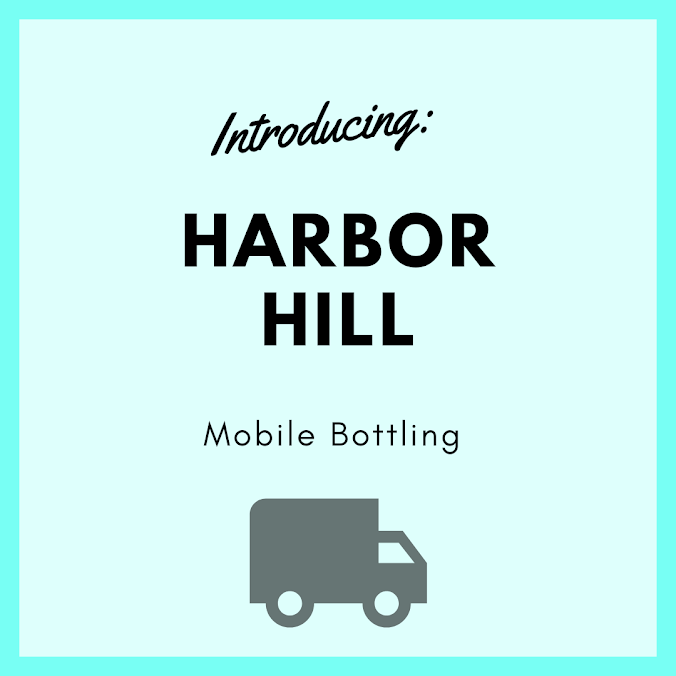 Harbor Hill has rolled out it's newest venture, Mobile Bottling! Harbor Hill is the parent company of MWC members Aurora Cellars and Good Harbor Vineyards. This newest venture will aid in creating a more inclusive growing wine industry in Michigan. To learn more about Harbor Hill's mobile bottling line Click Here.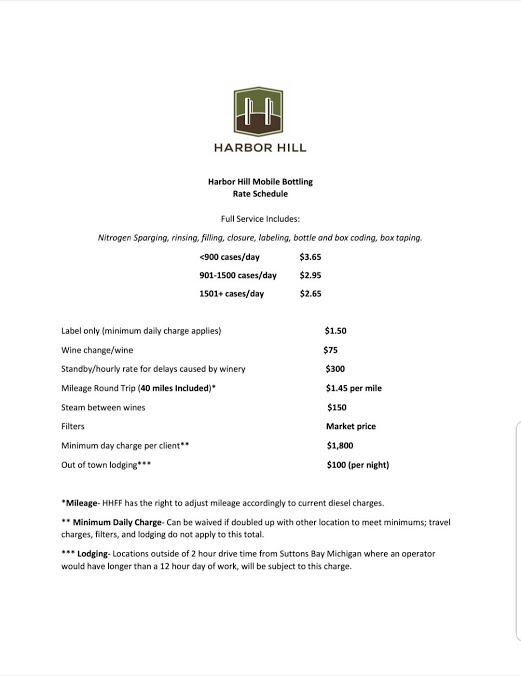 MDARD Rural Development Grant Opportunity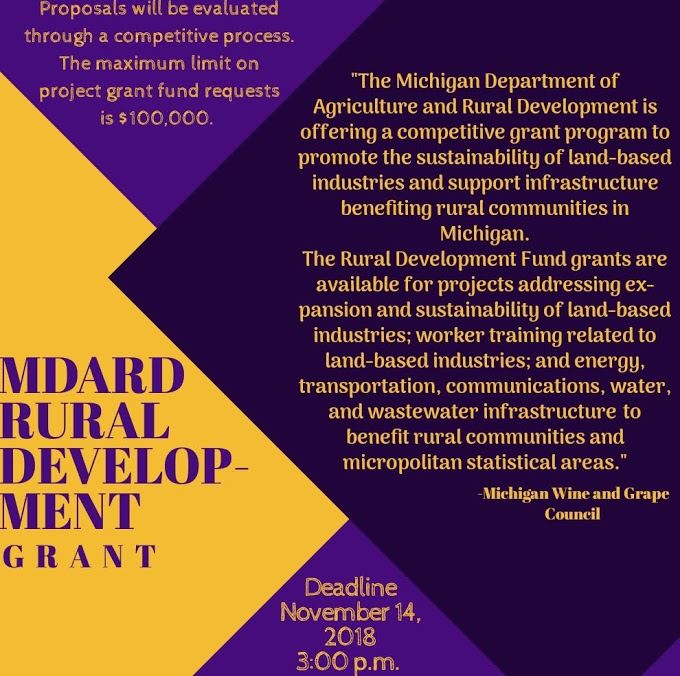 To learn more about requirements and how to apply Click Here!
Viticulture Production Specialist Wanted!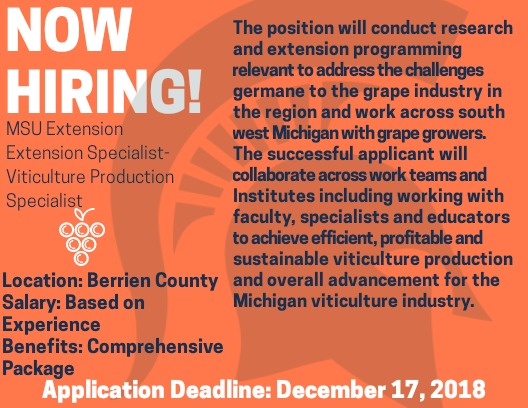 We NEED You!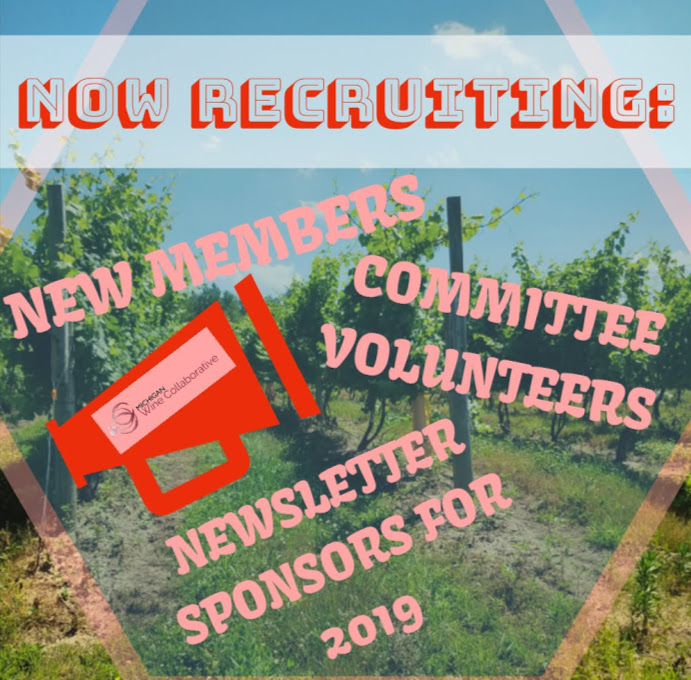 MWC has been making some big strides in areas ranging from marketing and promotion of our industry to exploring viticultural advancements, research opportunities, and apprenticeship programs. We need your help so we can accomplish even more. Let's collaborate!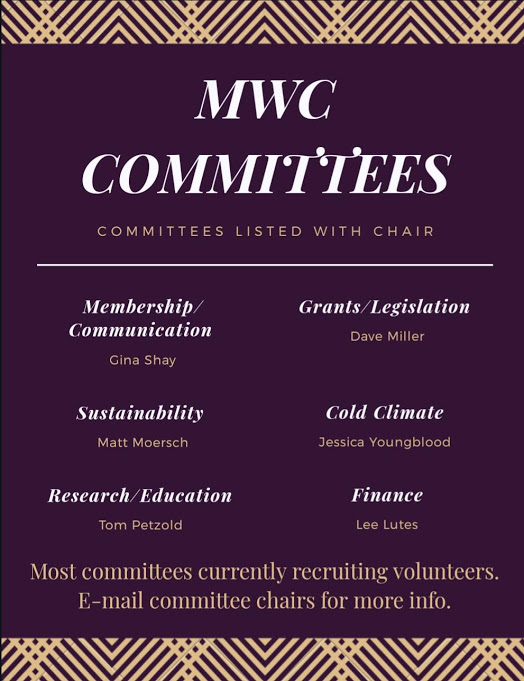 Many of our committees are recruiting volunteers to aid in achieving their many goals. To check out 2018 goals for committees Click Here! We are adding to these every day and looking for good ideas from you.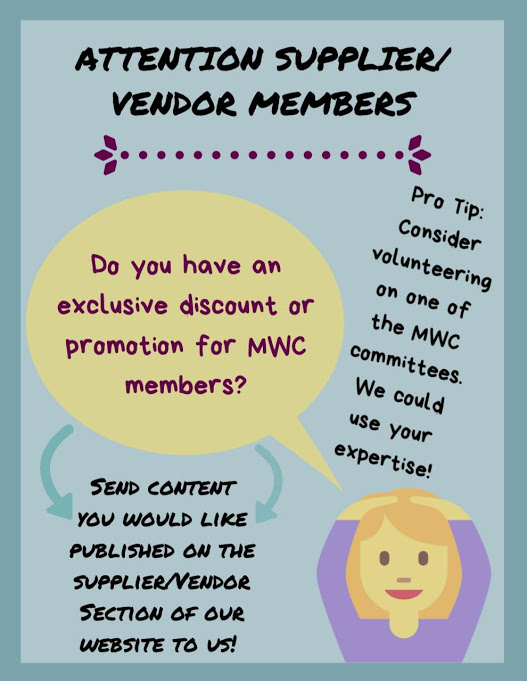 Are you looking for specialized advertisement to the Michigan wine industry? We can help with that! We are currently accepting newsletter sponsors for 2019. For more information on sponsorship E-mail us!
Spread the word on Michigan Wine Collaborative! We are looking for new members to help propel us and the Michigan wine industry to the next frontier. Every fruitful recruitment by a current MWC member receives a thank you gift from us!
Member Satisfaction Survey Sent Out to Members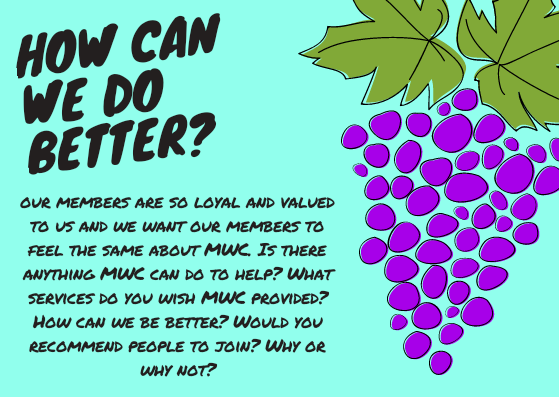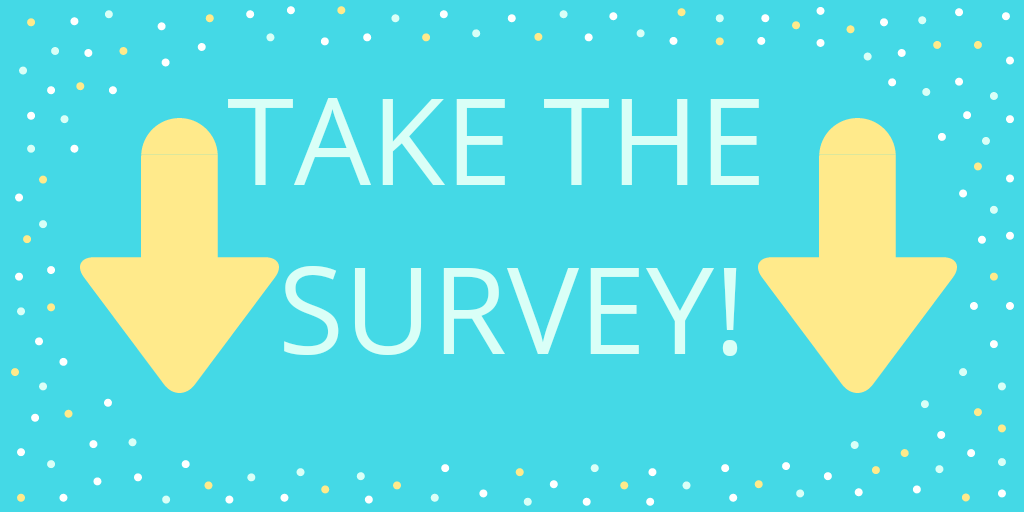 We need to hear from you! Only a small portion of our membership has completed the satisfaction survey. MWC wants to secure satisfaction from ALL members. Please take the Member Satisfaction Survey to help us define our goals and trajectory for the rest of 2018 and beyond. Let us know how we are doing. And as always, Thank you for being loyal and valued members of the Michigan Wine Collaborative.
Post Harvest Notes from Dr. Dave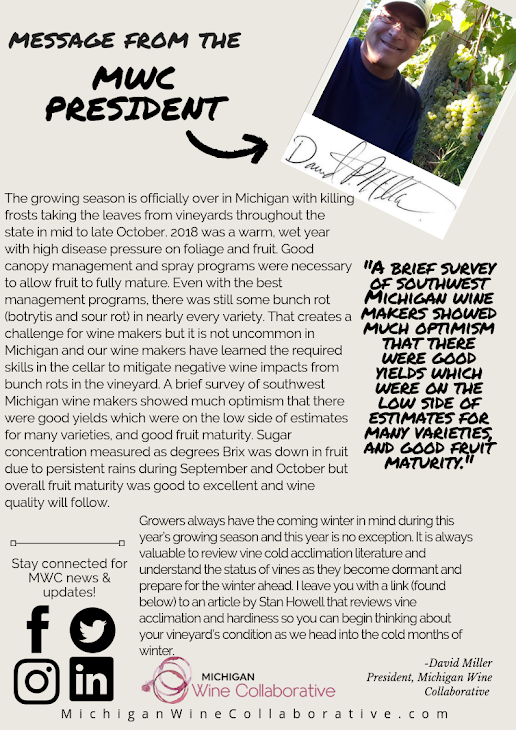 Average to Challenging Wine Harvest in the Midwest
Welcome to Our Newest Members!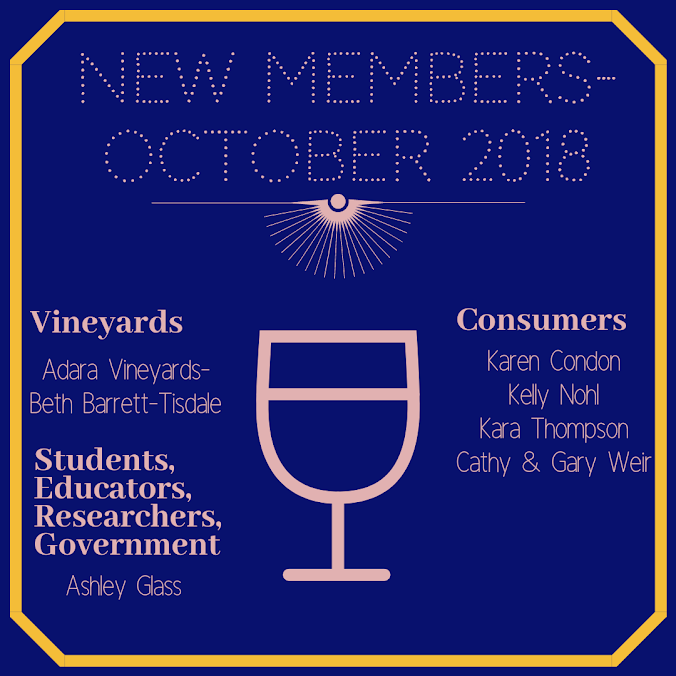 For more news and information, please visit us at www.michiganwinecollaborative.com. If you haven't already please like us on Facebook, follow us on Instagram @michiganwinecollaborative, and on Twitter @MIWineCollab. We look forward to seeing you online! 
Cheers,  
Dave Miller, President

Click Here to inquire about sponsorship opportunities with MWC.
Do you have an event, news, or accolade you would like published through MWC? E-mail Emily at   [email protected] to submit material.
Are you involved in any of MWC's valuable and dynamic committees? We are looking for motivated and industrious members to help our committees thrive. To request more information on available committee seats click here.
The Cold Climate committee is devoted to the support and innovation of cold climate varieties in Michigan. If you are interested in joining or if you have any questions please Contact Jessica.Meetings will take place the 3rd Monday of the month unless otherwise noted.  The next meeting for this committee is TBD in November. Contact Us if you would like to be sent call in information
ATTENTION: The Communications committee has recently merged with our Membership committee.
Membership & Communication committee call date isNovember 27th at9am. Contact Us if you would like to be sent call in information. Any inquiries may be directed to committee chair Gina Shay.
Sustainability committee meeting is scheduled for Tuesday November 13th at 10am. Contact Us if you would like to be sent call in information. Any inquiries may be directed to committee chair Matt Moersch.
MWC cannot thank our members enough for supporting us and collaborating with us on the future of the Michigan wine industry. We need you to help us spread the word about MWC membership. Every member who cultivates a fruitful referral will receive a small thank you gift from MWC. 

Reminder that board meetings take place monthly. All members (voting and non-voting) are welcomed to attend. In addition, time is allotted for public comments or questions. The next board meeting is scheduled forNovember 6th at 10 am. Board meetings will take place the first Tuesday of the monthunless otherwise noted. For call-in information contact us here or check the news section on the MWC website.