When: Mar 11, 2019 10:00 AM Eastern Time (US and Canada)
Topic: Production Techniques for Cold Hardy Grapes
Matt Killman (Founder @Cool Climate Consulting)
Cool Climate Consulting was founded in 2018 by winemaker Matt Killman with the goal of assisting winemakers in creating world class wines from cool climate grapes. After graduating from Michigan State University with a degree in Plant Biology and spending time working for the Great Lakes Bioenergy Research Center there, Matt decided to focus specifically on one of the most wonderful plants in the world: the grape vine. Moving up north to start an internship at Chateau Grand Traverse on Old Mission Peninsula and spending a brief amount of time there, he was offered a full time Assistant Winemaker position at Mackinaw Trail Winery in Petoskey.
Matt is passionate about quality control in the cellar, and creating approachable and interesting wines for the new wine drinker and connoisseur alike. Contact Cool Climate Consulting to find out more about our services and find out how an expert in the industry can help you grow your business.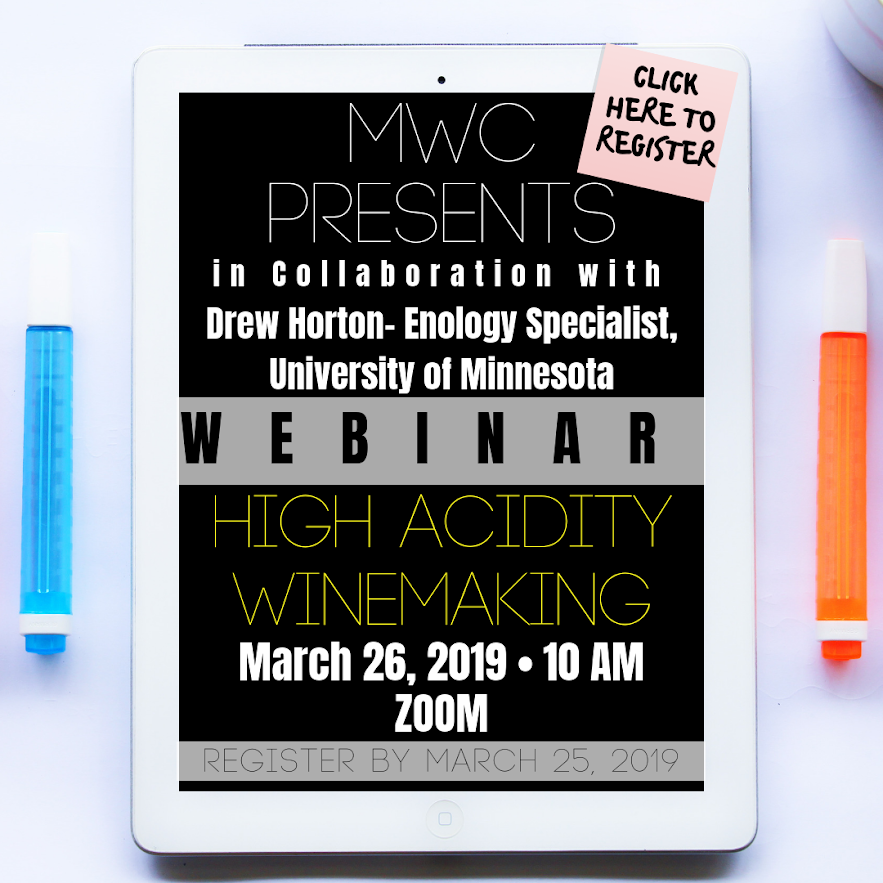 When: Mar 26, 2019 10:00 AM Eastern Time (US and Canada)
Topic: High Acidity Winemaking with Drew Horton
Webinar Speakers
Drew Horton (Enology Specialist @University of Minnesota, Department of Horticulture Research)
Research Interests include organization, gene expression, Wine Making/Enology, High-acidity Wine Making Techniques, Experimental Wine Making and Micro-Vinification.
Drew conducts micro-wine-making and research wine making trials and experiments utilizing newly hybridized cold-climate wine grapes developed by the UMN Grape Breeding program at the UMN HRC.
Not a member of MWC yet? Join Now!