October 2022 Newsletter
Get an update on MWC's participation in the 2022 Field to Vase Dinner, Join Modales in their Nouveau Celebration, Prepare for the 2023 MWC Board of Directors Election, Learn about what our committees are working on, Attend a Micro-oxygenation and Oxygen Management Webinar, Renew your MWC membership and help us recruit new members, and More!
MWC Partners with Certified American Grown Flowers in the 2022 Field to Vase Dinner Tour
The American Field to Vase Dinner Tour was launched in 2015 to bring awareness to flower farming in America. Today, almost 80 percent of flowers sold in the U.S. are imported, threatening the domestic market. When consumers are aware of where their flowers come from, they are more likely to choose American grown.

The Field to Vase Tour turns the spotlight onto the center of the table and helps highlight the importance of buying flowers grown by America's flower farmers. Buying American grown supports not only farming families but keeps dollars spent local which in turn supports the surrounding communities.

Michigan Wine Collaborative was proud to partner with Certified American Grown to bring Michigan wines into collaboration on this dinner at Summer Dreams Farm in Oxford, Michigan on September 18, 2022.

Field to Vase Dinner guests enjoyed premium Michigan wines from MAWBY, Shady Lane Cellars, and Two K Farms paired with cuisine featuring locally sourced produce, cheese, and more. The event was attended by over 150 guests who shared an enthusiasm for local agriculture. Visit the MWC Instagram to view our highlights from the event.

For more information on Certified American Grown please visit:

https://americangrownflowers.org/

To see a preview of the photos and videos from this event please CLICK HERE!*

*A full Flickr catalog of photos and videos will be available on the Field to Vase Dinner website soon!
Celebrate Fall with Modales
Harvest is in full swing which makes it a fun time to visit the winery & potentially catch some of the action! Modales is open daily for harvest visits and has lots in store for this Fall season and beyond!

Newly released wines for the tasting room include the 2021 Chardonnay (Lake Michigan Shore AVA),  2021 La Esperanza Vineyard Cabernet Franc (Fennville AVA), 2020 Lamastus Red Blend (Cab Sauv, Cab Franc, Merlot) (Lake Michigan Shore AVA).

Recently Modales harvested the grape Regent this year for their 2022 Nouveau. Tickets for the 2022 Nouveau Celebration at Modales are available online NOW!! The event takes place on November 19th 3pm-8pm and will be limited to 300 attendees so purchasing your tickets early is greatly encouraged.
2023 Election Information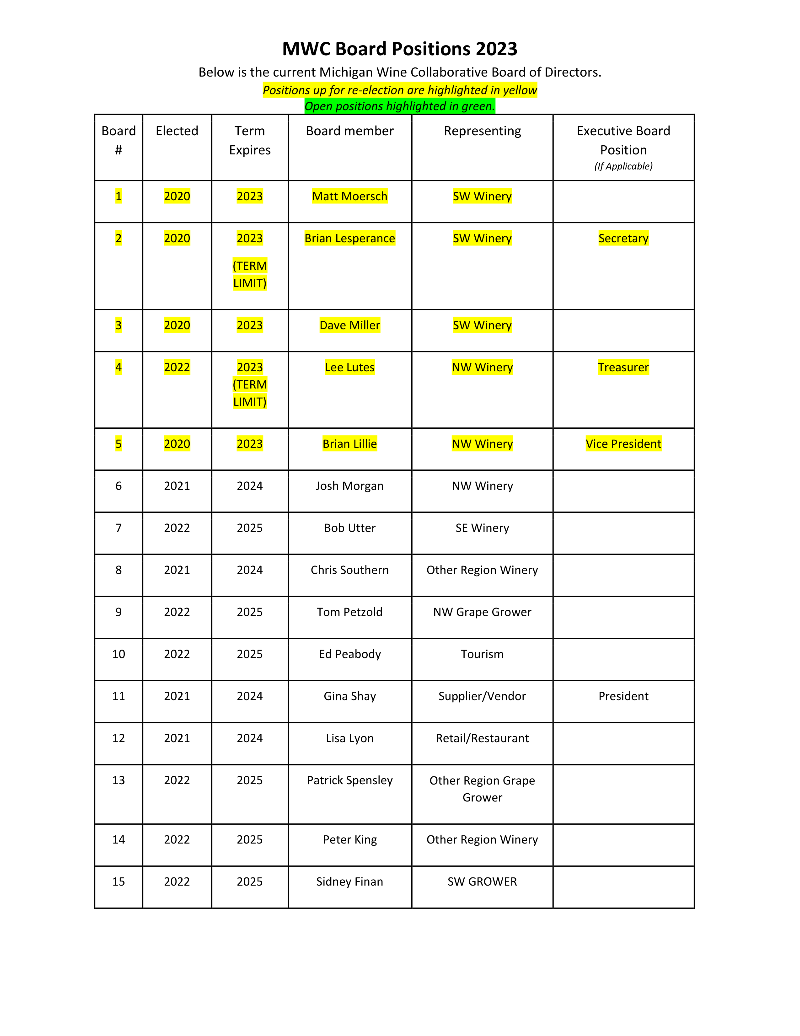 We are preparing for the 2023 MWC Board of Directors Election. Above you will see the entire MWC Board along with positions up for re-election. Some of our Executive Committee positions are up for grabs due to term limits. Current board members are encouraged to throw their hat in the ring to tackle those Executive needs for the organization. MWC members interested in running for our Board of Directors and Executive Committee positions up for elections are encouraged to reach out ASAP as we develop our Annual Meeting and Election materials.

Contact EMILY with questions or to get involved on the board.
MWC Committees are busy at work advancing the organization and the Michigan grape and wine industries.

Sustainability Committee

Our Sustainability Committee is committed to progressing their efforts towards an official sustainability workbook and certification programs. This is being accomplished through collaborations with the New York grape and wine industries. We hope this workbook will be available for use in Michigan by 2024. Please reach out to Sustainability Chairs 

Sidney Finan

 or 

Maxx Eichberg

 for more information.

Marketing and Communications Committee
Our Marketing and Communications Committee is continuing to work with Factory Detroit to create a statewide brand image for Michigan Wine. Currently we are working on strategy for a soft launch of the proposed umbrella brand slated for a November release. The main marketing campaign has a tentative launch date of April 2023 in time for a big Michigan Wine Month Celebration. We have recently submitted our report to MDARD for the current reporting period. We are awaiting approval and reimbursement for our most recent expenses from the project. Any inquiries on this project or to get involved with the Committee should be directed to Chairperson and MWC Vice President Brian Lillie.

Inclusion and Expansion Committee
Our Inclusion and Expansion Committee has been busy with the collaboration project aimed at helping to fund the MWC Recruitment Pipeline Scholarship Program. Chateau Chantal and Drew Ryan Wines are working together along with members of the Committee to pull together branding, blending, and marketing for a benefit wine which will be available to retailers in 2023. The Committee has completed much of the branding for the wine which includes the name of the wine, The Dream and also the front label design. Currently tasting and blending trials are underway as we get closer to finalizing the winemaking decisions. Once those decisions are finalized the full label proposal will be submitted to the TTB. For more information on this project or to secure product for your store or restaurant please reach out to Brian Lillie of Chateau Chantal. If you would like to volunteer on the Inclusion and Expansion Committee please reach out to Chairman Chuck Jackson or Emily Dockery.
Register for the Micro-oxygenation and Oxygen Management Webinar
During the 90-minute webinar on October 18th at 3PM Central Time, Dr. Angelita Gambuti (University of Naples Federico II) will present and discuss the research around the use of micro-oxygenation in wines for about 20-30min and Mark Cave (AEB group) will explain the practical aspects of MOX and techniques of oxygen management for about 10 min.

The FREE upcoming webinars this year are 90-min long with short presentations of academic and/or industry partners for the first portion of the webinar followed by a roundtable style panel involving winemakers from different US States to share experiences and knowledge with you. These webinars are co-organized and co-hosted by Dr. Aude Watrelot, Assistant Professor of Enology at Iowa State University and Drew Horton, Enology Specialist at the University of Minnesota's Grape Breeding & Enology Project.
It's Time to Renew MWC Membership for 2023! Help Us Recruit New Members!
It is time to renew your Michigan Wine Collaborative membership! Many of you are already signed up for automatic renewals. However, if you are not you should be receiving instructions on how to renew soon. If you have let your membership lapse, now is the time to bring your membership current again as our annual membership cycle begins on September 15th.
Now is also the perfect time to help us recruit new members to the Michigan Wine Collaborative. While we of course offer memberships to wineries and vineyards across the state we also encourage suppliers, vendors, educators, policy makers, retailers, restaurants, hospitality, activists, individual supporters, and more to join us in our mission to to enhance the sustainability and profitability of the Michigan wine industry. It's a all hands on deck moment for the Michigan wine industry and we need everyone to contribute to help us reach out goals as quickly as possible and make our industry bigger, better, faster.
Please distribute the following link to any interested potential members:
mwc.wildapricot.org
To log in and view your own membership status click the button below. If you need assistance logging into your profile contact Emily.
Updates from the Michigan Beverage Collective
The Michigan Beverage Collective provides hand-crafted benefit programs for Michigan's beverage business owners; employers who want to recruit and retain exceptional talent, offer a great place to work and grow their business.  Michigan born and bred, the Collective helps beverage industry employers provide competitive benefits without breaking the bank.  By pooling Michigan's large community of craft beverage makers and wholesalers into one buying group, the Collective is able to obtain lower prices on healthcare coverage and provide a number of attractive, flexible plan options.

The Michigan Beverage Collective reduces the complexity of employee benefits (one-stop shopping) while improving service from responsive staff who know the industry.  It helps members attract and retain the best talent with a sustainable employee benefits program that's easy to administer.  The Collective brings together the Michigan beverage community, with 33 current participating employers and 4,000 insured, to keep costs down.  Raise the bar on employee benefits with the Michigan Beverage Collective.

NOW is the time to take advantage of all of the benefite the Michigan Beverage Collective has to offer as open enrollment season is upon us.

Contact the Michigan Beverage Collective HERE with any questions and for more information on how the Michigan Beverage Collective can serve you and your business.
First and foremost, happy Harvest 2022! This is the time of year during which the wine production industry's hard work, sweat, and tears culminate in the character of the vintage. We wish all of you safe and smooth harvests, beautiful fruit, and equipment that works how it's supposed to till the last drop of juice is tucked away for its long winter's nap.
While harvest is happening for the next couple of months, your team members at the Michigan Wine Collaborative are working hard behind the scenes to finalize organizational plans for 2023 and beyond. We have an exciting array of events, campaigns, committee projects and partnerships, and new roll-outs in the coming year that will bring value to both individual members of MWC and to our industry as a whole. The momentum is tangible, and we'll need a lot of hands on deck to really make the next year great. There are several board and executive board positions coming up for election/re-election, and renewed enthusiasm and fresh perspectives are always welcome! You won't want to miss the opportunity to be a part of MWC's next phase; we can accomplish more together.
Michigan Wine in the News
Check out notable mentions in the media featuring Michigan Wine Collaborative members and promoting the Michigan Wine Industry.
*Did we miss an important Michigan wine news story? E-mail us HERE!
The Michigan Wine Collaborative appreciates support from the following supplier/vendor members, sponsors, and donors:
2022 MWC Sponsors & Donors