April 2022 Newsletter
Participate in the 2021 Wine Grape Sales Survey, Help promote MWC's You Name It campaign for Michigan Wine Month, Attend MSU Extension's Southwest Viticulture Specialist Candidate Presentations, Learn about Autonomic Lasers from Migratory Bird Management, Get a Judgement of Michigan Update, and more!
Wine Grape Sales Survey- DEADLINE APRIL 29th!
The Michigan Wine Collaborative (MWC) received a MDARD / USDA Specialty Crop Block Grant award for 2021-2022 to increase the competitiveness of Michigan Grape and Wine Producers. (See Press Release).
As a part of this campaign the MWC must collect information on a specific outcome indicator that measures the change in Wine Grape Sales from the baseline year 2021 to 2022.
Members, please take 10 minutes to complete this 2021 survey today.  
MWC's You Name It Campaign for Michigan Wine Month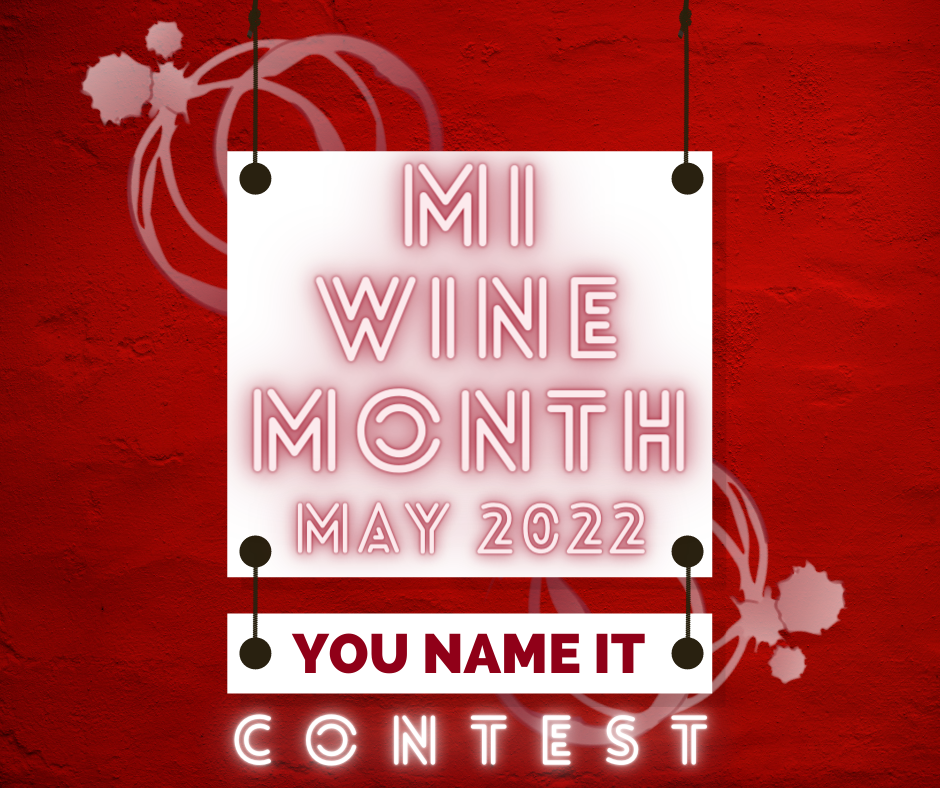 To begin promoting the upcoming Michigan Wine Month MWC will be coordinating a "You Name It" Campaign which will encourage consumers to come up with a slogan for 2022 Michigan Wine Month. We will be promoting this campaign on Facebook and Instagram. Instructions will be posted on both platforms next week. The Marketing/Communications committee will select three winners who submit the best slogans. MWC member wineries Chateau Chantal, Detroit Vineyards, and Round Barn have donated wine tasting experiences as the sweepstakes prizes for the winners.

We are asking our members and the entire Michigan wine industry and our partners to help us promote this campaign by sharing our posts and encouraging their followers and guests to join in the fun.

Please reach out to Emily or Brian Lillie with any questions.
MSU Southwest Viticulture Extension Specialist Candidate Presentations
MSU Extension
Viticulture Specialist   
Agriculture and Agribusiness Institute 
Wednesday, April 13, 2022 
Candidates will present in person and on Zoom at the SWMREC conference room located at 1791 Hillandale Rd., Benton Harbor, 49022 269-944-1477
Mike Reinke 
Wednesday, 4/13/22 @ 1:00 p.m.
https://msu.zoom.us/j/95171050518
Passcode:   788399
Link to feedback form: Reinke Feedback https://msu.co1.qualtrics.com/jfe/form/SV_a2WqoVQGf40POUC
Russell Smithyman  
Wednesday, 4/13/22 @ 1:50 p.m.
https://msu.zoom.us/j/95171050518
Passcode:   788399
Link to feedback form: Smithyman Feedback 
https://msu.co1.qualtrics.com/jfe/form/SV_eh5Sk1wunQJZCL4 
Miranda Purcell 
Wednesday, 4/13/22 @ 2:40 p.m.
https://msu.zoom.us/j/95171050518
Passcode:  788399
Link to feedback form: Purcell Feedback 
https://msu.co1.qualtrics.com/jfe/form/SV_eaqj1jl15dttRGu 
20 Minute Presentation with 10 minute Q&A to follow:
Topic:
What are the three most important issues in Michigan grape production (juice and wine) and how would you approach addressing them in order of priority and in terms of research and Extension?      
Feedback is encouraged and will be accepted until Monday, April 18, 2022, at 5:00 p.m. Public and interested parties are welcome to attend.  
Chateau Chantal's Wine Steward and Restaurateur Summit 2022
Announcing the return of the Wine Steward and Restauranteur Summit 2022!

Who: Wine stewards and restaurateurs from all current or future accounts that support Chateau Chantal products on
their retail shelf or wine list
What: Chateau Chantal will be educating on the products that are widely distributed in the Great Lakes region.
When: Friday April 22, 2022. 11a-2p

Itinerary:
11am Welcome by Founders Bob Begin and Marie-Chantal Dalese
11:30am Vineyard tour
Noon How to taste wine (and spit) with Winemaker Brian Hosmer
1pm Wine and food pairing with Director of Distribution Brian Lillie
2pm Closing questions, thoughts, and final take-aways
Where: Chateau Chantal Winery
15900 Rue de Vin
Traverse City, MI 49686
Why: To create excitement about our brand and Michigan Wine before the anticipated "May is Michigan Wine Month."
How: To RSVP Call 231.223.4110, click here, or scan the QR code on the attached before April 15th.
Cost: Free to retailers, restauranteurs and distribution representatives
Autonomic Lasers from Migratory Bird Management
For as long as humans have been enjoying wine, we have been competing with birds for the fruits of our labor. Ripening grapes are a bird delicacy, filled with the energy and hydration needed to bulk up for winter and migrate long distances. With no bird management, vineyards can lose 40-90% of their yield to the voracious appetites of starlings, robins, and other fruit eating birds.

Over the millennia, people have invented numerous ways to prevent birds from damaging and consuming crops. In modern times, netting and noisemakers have been the go-to for vineyards and orchards for decades. However, each of these has some significant flaws, either in efficacy or in labor and maintenance.

Recent innovations allow us to introduce the autonomic laser: a winery's best friend! Birds see differently than we do, and autonomic lasers create a frightening situation that can be effective at reducing bird populations by up to 99%, with minimal labor and 24/7 protection. The random and customizable tracking pattern prevents birds from becoming acclimated to it like they do to other visual and audio frightening devices. Andrew Roush, owner of Petoskey Farms Vineyard and Winery, states that,

"…we have intense bird pressure, primarily from Starlings. Historically, we have used bird netting to limit loss and damage to our grape crop. …netting is a big labor expense and the bird pressure was getting progressively worse… We lost 35 – 40% of our grape yield and were forced to pick earlier… In 2021 we installed two AVIX Autonomic bird lasers to cover our vineyard. We were able to let the fruit hang late and estimate total crop loss to be 3%."

Lasers aren't flawless; their up-front costs can be daunting. However, they usually pay for themselves in labor costs and yield increases in one growing season and with a lifespan of over 10 years, they are a significantly profitable investment, especially now as prices for everything continue to rise. It's time for vineyards to truly enjoy the fruits of their labors, so that making wine can be the labor of love it has always been.
Judgement of Michigan 2023
MWC has made the decision to postpone the 2022 Judgement of Michigan Evaluation to 2023. We will be focusing on launching trade events highlighting the winning wineries from 2021 in metropolitan areas throughout 2022 including areas such as Detroit and Grand Rapids. These events will invite active buyers and writers from within to state to taste Michigan wines for their wine sets, lists, and media opportunities as well as sessions to educate the trade on Michigan wine and grapes.

Any interested parties who would like to volunteer on the 2023 Judgement of Michigan planning committee should reach out to EMILY HERE. A Basecamp project will be established soon to keep plans and events organized as we get ready for our follow up events and the 2023 Judgement of Michigan.
Michigan Wine in the News
Check out notable mentions in the media featuring Michigan Wine Collaborative members and promoting the Michigan Wine Industry
*Did we miss an important Michigan wine news story? E-mail us HERE!
The Michigan Wine Collaborative appreciates support from the following supplier/vendor members, sponsors, and donors:
2022 MWC Sponsors & Donors