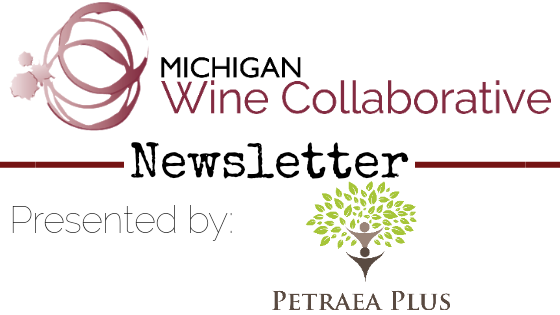 MWC Member and Sponsor Petraea Plus!
Petraea Plus
 is the cool climate barrel company, a woman-owned oak group with a portfolio curated for the specific needs of wineries, breweries, cideries, and distilleries in cooler and cold climate emerging regions. With a certified sommelier/CSW on staff, over 15 years of craft beverage industry experience in eastern North America, and innovative products, Petraea offers a consultative, educational approach to finding personalized oak profiles for each of your unique beverages. Let's collaborate!
Click Here to visit Petraea Plus on the web. E-mail fellow member, Gina Shay, with any inquiries regarding Petraea Plus.

Petraea Plus is a valued member of the Michigan Wine Collaborative and our second newsletter sponsor. Thank you, Petraea!
Click Here to inquire about sponsorship opportunities with MWC.
SAVE THE DATES!
Call (269)326-0430 to RSVP BY TODAY (Monday August 6th)!
The Kellogg Hotel & Conference Center will host theMichigan Wines Gold Medal Reception on August 9, 2018. This is the place to be if you have yet to experience what Michigan has to offer in the way of wine! All the wines served were top winners in the 2018 Michigan Wine Competition, held a week prior. The competition has Michigan wineries competing against each other for the coveted "Best of Class" honor. Don't miss out on what the Michigan wineries do best … make great wine! Sample from more than 100 of the state's best wines, along with culinary treats created by the Kellogg Center chefs to accompany the award-winning wines. To purchase tickets Click Here! 
THE SYMPOSIUM IS SPONSORED BY NOVAVINE GRAPEVINE NURSERY (CALIFORNIA) AND VIVAI COOPERATIVI RAUSCEDO (ITALY) AND THERE IS NO REGISTRATION FEE. LUNCH WILL BE PROVIDED TO ALL THE PARTICIPANTS. 
Growing healthy grapes for producing quality requires a lot of spraying in the vineyards, and the use of large quantities of pesticides, fungicides, herbicides, etc. Much effort has been done by the industry developing more environmentally friendly practices for sustainable viticulture. One of the most recent development in this field, is the use of new disease-resistant grape varieties; vines selected to resist to fungi and to produce quality wines. Across Europe, pioneering wine producers are leading the way and testing these new breeds of super-grape vines and producing wine from them. Some of those varieties and their performance are the focus of this symposium.
Congratulations to the 2018 Michigan Annual Wine Competition Winners and Participants!
Top Winners: (From Left) MAWBY Sandpainting, Left Foot Charley Blaufrankisch Rosé, St. Julian Solera Cream Sherry, Lawton Ridge AZO Red, Aurora Cellars Medium Sweet Riesling, Mari Vineyards Bel Tramonto, Chateau Grand Traverse Riesling Ice Wine, Verterra Dry Riesling, St. Julian Sweet Nancie Peach. 
Many Michigan Wine Collaborative members stole the show at the 2018 Michigan Annual Wine Competition. This year marked the 41st anniversary of the competition. With the event's future uncertain due to the drastic changes to theMichigan Grape and Wine Council this competition could prove to be a bit more historic than years past. Also taking into consideration the particularly good vintage years we have enjoyed this year's competition was fierce. On July 31st close to 30 wine professionals from around the country joined forces to provide judgement upon our state's finest wines. Of the 413 wines submitted from forty-five of the states 145 wineries there were 27 double gold medals and 95 gold medals awarded. This was also the first year for the specialized Ice Wine category. This would make this award the first and only Ice Wine trophy in the United States. Winning in this category was Chateau Grand Traverse with their Riesling Ice Wine. Michigan Wine Collaborative members winning Double Gold includes; Aurora Cellars, Left Food Charley, Mari Vineyards, St. Julian Winery, Lawton Ridge Winery, and MAWBY. To view the full list of winners Click Here! Congratulations to all those who placed in the competition and entered. Keep up the good work!
MWC Sponsors the Eastern Winery Exposition
Planning for the 8th Annual Eastern Winery Exposition is underway! This is the largest production wine and grape trade show and conference in the Eastern United States. The event will take place next March 19th-March 21st in Syracuse, NY. MWC is honored to be sponsoring the much anticipated event and we are excited to announce members will receive 10% off seminar and/or trade show registration. The event will provide a wide selection of speakers, sessions, and workshops related to enology, viticulture, marketing, and technology. There is also a trade show with almost 200 exhibitors. 
Research & Networking Opportunities In Northern Michigan
First Friday Meetings – Starting at 3 pm

Aug 23rd Meeting: The August 23rd meeting will be titled "Pre-harvest considerations" and will run concurrently with the Northwest Michigan Open House. This meeting will include an in-person presentation from Paolo Sabbatini and, depending upon their availability, other members of the MSU faculty to discuss new research projects, and will be followed by a dinner and wine tasting on the grounds of NWMHREC (The NWMHRC Open House and Leelanau Horticultural Society Annual Meeting and Dinner).
Setting the Scene for Progress
We NEED You!
MWC has been making some big strides in areas ranging from marketing and promotion of our industry to exploring viticultural advancements, research opportunities, and apprenticeship programs. We need your help so we can accomplish even more. Let's collaborate! 
Many of our committees are recruiting volunteers to aid in achieving their many goals. To check out 2018 goals for committees Click Here! We are adding to these every day and looking for good ideas from you. 
Are you looking for specialized advertisement to the Michigan wine industry? We can help with that! We are currently accepting newsletter sponsors for 2019. For more information on sponsorship E-mail us!
Spread the word on Michigan Wine Collaborative! We are looking for new members to help propel us and the Michigan wine industry to the next frontier. Every fruitful recruitment by a current MWC member receives a thank you gift from us!
Member Satisfaction Survey Sent Out to Members
We need to hear from you! Only a small portion of our membership has completed the satisfaction survey. MWC wants to secure satisfaction from ALL members. Please take the Member Satisfaction Survey to help us define our goals and trajectory for the rest of 2018 and beyond. Let us know how we are doing. And as always, Thank you for being loyal and valued members of the Michigan Wine Collaborative.
For more news and information, please visit us atwww.michiganwinecollaborative.com. If you haven't already please like us on Facebook, follow us on Instagram @michiganwinecollaborative, and on Twitter @MIWineCollab. We look forward to seeing you online! 
Cheers,  
Dave Miller, President 
Click Here to inquire about sponsorship opportunities with MWC.
Do you have an event, news, or accolade you would like published through MWC? E-mail Emily at   [email protected] to submit material.
Are you involved in any of MWC's valuable and dynamic committees? We are looking for motivated and industrious members to help our committees thrive. To request more information on available committee seats click here.
The Cold Climate committee is devoted to the support and innovation of cold climate varieties in Michigan. If you are interested in joining or if you have any questions please Contact Jessica.Meetings will take place the 3rd Monday of the month unless otherwise noted.  The next meeting for this committee is August 20th at 3pm. Call in information will be listed on Basecamp. Contact Us if you would like to be sent that information
Communications committee meeting call date is TBD. Call in information will be listed on Basecamp. Contact Us if you would like to be sent that information or to check in about the date of the call.  Any inquiries may be directed to committee chair Brian Lesperance.
Membership committee call date is August 28th at 9am. Call in information will be listed on Basecamp. Contact Us if you would like to be sent that information or to check in about the date of the call.  Any inquiries may be directed to committee chair Gina Shay.
Sustainability committee meeting is scheduled for Tuesday August 14th at 10am.  Call in information is listed on Basecamp. Contact Us if you would like to be sent that information. Any inquiries may be directed to committee chair Matt Moersch.
MWC cannot thank our members enough for supporting us and collaborating with us on the future of the Michigan wine industry. We need you to help us spread the word about MWC membership. Every member who cultivates a fruitful referral will receive a small thank you gift from MWC. 

Reminder that board meetings take place monthly. All members (voting and non-voting) are welcomed to attend. In addition, time is allotted for public comments or questions. The next board meeting is scheduled for August 7th at 10 am. Board meetings will take place the first Tuesday of the month unless otherwise noted. For call-in information check Basecamp or contact us here.