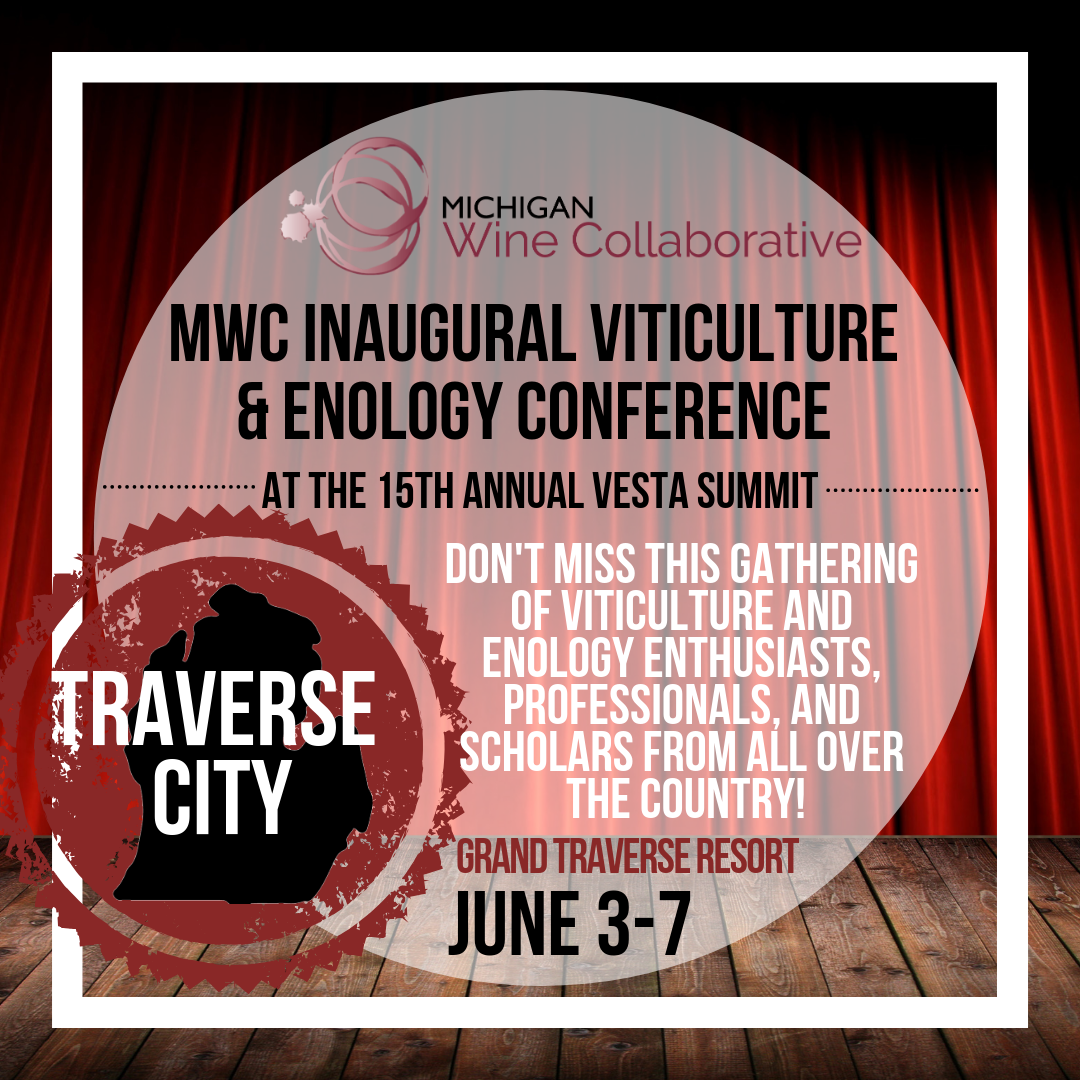 MWC is excited to invite you to the Inaugural MWC Viticulture & Enology Conference! This much anticipated event will take place at the 15th Annual VESTA Summit. With so many wine and grape industry professionals converging on Traverse City for the VESTA event, MWC thought this would be the perfect 'sister' conference for us to collaborate with.
Don't miss your chance to meet Richard Smart of 'Sunlight Into Wine' as well as the MWC 2019 Annual Meeting and Election and Exclusive Winemakers Tasting! This event will also feature a Cold Climate focused learning track with professionals from Minnesota, Iowa, and more! (more information below)
And of course there will be plenty of opportunities to network, indulge in wines from all of the state, and learn about innovations in wine and grape production. We hope you'll join us for this truly unique opportunity.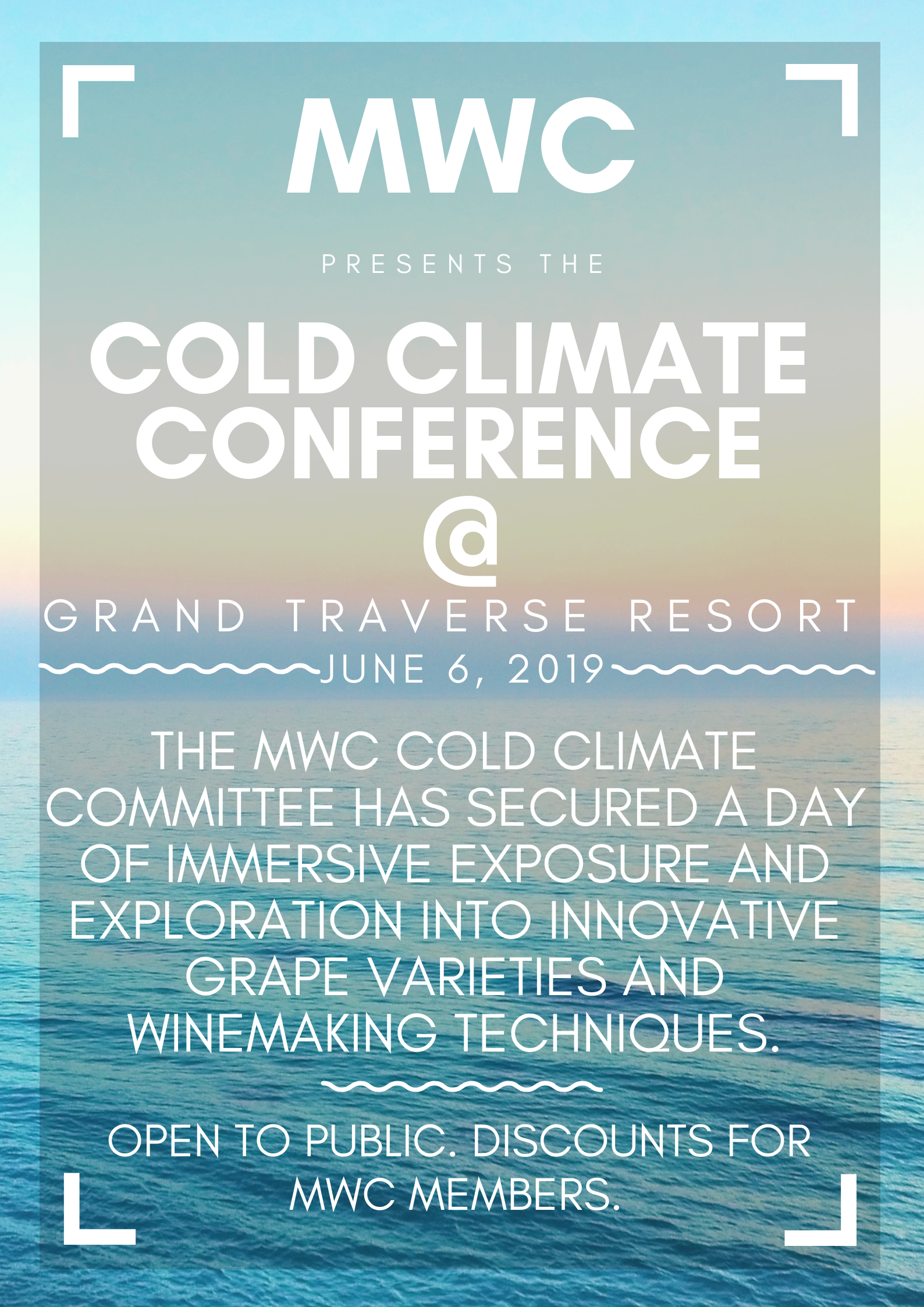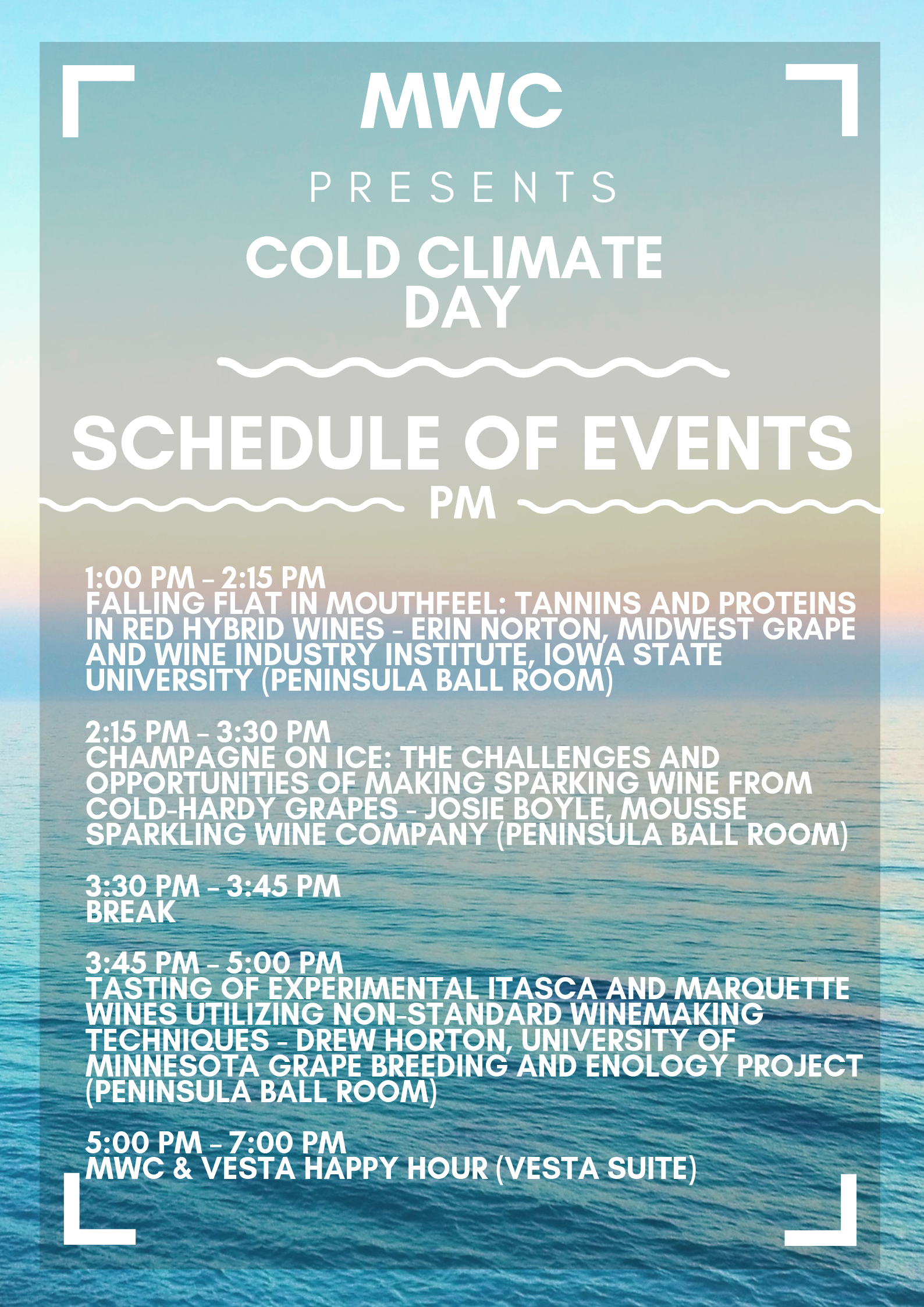 5:15-7:00 PM P45 Happy Hour (VESTA Suite)
7:00 PM – 9:00 PM Dinner (Pavilion)
Thursday – June 6
7:00 AM – 8:00 AM Breakfast (Tower C)
8:00 AM – 9:15 AM Managing Cold Hardy Grapes for Quality – Larry Shafer, Agro-K Corporation (Peninsula Ball Room)
9:15 AM – 10:30 AM The Efficient Vineyard Project The Application of Sensor Technology in Production Viticulture – Terry Bates, Ph.D., Cornell Lake Erie Research and Extension Laboratory (Peninsula Ball Room)
10:30 AM – 10:45 AM Break
10:45 AM – 12:00 Noon Increasing Stress Tolerance in Grape Species, Jason Londo, Ph.D., USDA-ARS Grape Genetics Research Unit (Peninsula Ball Room)
12:00 Noon – 1:00 PM Lunch (Tower B/C)
1:00 PM – 2:15 PM Falling Flat in Mouthfeel: Tannins and Proteins in Red Hybrid Wines – Erin Norton, Midwest Grape and Wine Industry Institute, Iowa State University (Peninsula Ball Room)
2:15 PM – 3:30 PM Champagne on Ice: The Challenges and Opportunities of Making Sparkling Wine from Cold-Hardy Grapes – Josie Boyle  (Peninsula Ball Room)
3:30 PM – 3:45 PM Break
3:45 PM – 5:00 PM Tasting of Experimental Itasca and Marquette Wines Utilizing Non-Standard Winemaking Techniques – Drew Horton, University of Minnesota Grape Breeding and Enology Project (Peninsula Ball Room)
5:00 PM – 7:00 PM MWC & VESTA Happy Hour (VESTA Suite)
7:00 PM – 9:00 PM Dinner (Level 17)
Friday – June 7
7:00 AM – 8:00 AM Breakfast (Tower C)
9:00 AM – 10:00 AM Michigan Wine Collaborative Annual Meeting (Tower A)
10:30 AM – 6:30 PM
Industry Tours with Winemakers, Industry Experts & VESTA Instructors
Boxed Lunch and Transportation Provided
Chateau Chantal: Equipment, Budgeting & Labor Savings with Brian Hosmer
Leorie Vineyards: High Quality Red Wines with Craig Cunningham and Lee Lutes
Mari Vineyards: Wastewater Management with Sean Noell and Mitch Reed & Wine Tasting
2:00 PM – 5:30 PM
Winemakers Tasting: Varietal Red Wines (other than Pinot Noir, Cabernet Franc and Merlot).  Open to commercial winemakers by invitation only
(Mackinac A)
5:30 PM – 7:00 PM MWC & VESTA Happy Hour (VESTA Suite)
7:00 PM – 9:00 PM
Dinner (Pavilion)
MWC Dinner Honoring the House of Howell featuring Michigan Wines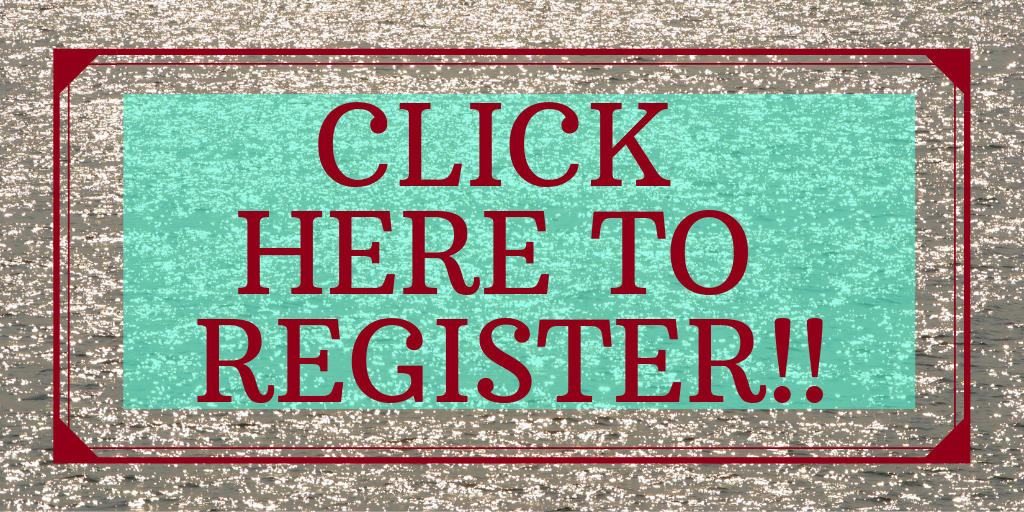 As always, please feel free to contact us with any questions. We are here to help!!