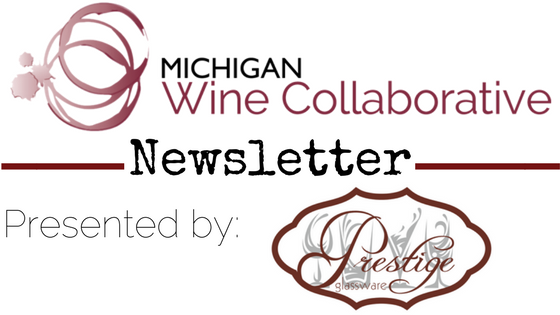 Prestige Glassware Sponsoring MWC's August Newsletter and Providing Deals at the Top of This Harvest Season!
Prestige Glassware is a family run company now being operated by their second generation. They are a MICHIGAN company providing jobs in the community for 45 people. Prestige Glassware is officially recognized in the USA as a  premium decorator of glassware.
Prestige has been a glassware decorator for 40 years and has expanded their product line from 12 items to over 950 items.  Prestige products are mostly drinkware and similar styled vessels made from glass, ceramic, stainless steel or acrylic. They service a large variety of customers in the hospitality, brewery, winery, and distillery industries.  The primary goal of Prestige Glassware is to establish professional relationships while branding other businesses to help them grow and become household names.

Click Here to visit Prestige on the web. E-mail fellow MWC member Richard Budd with any inquiries regarding Prestige.

Prestige Glassware is a valued member of the Michigan Wine Collaborative and our first newsletter sponsor. Thank you Prestige!
Click Here to inquire about sponsorship opportunities with MWC.

Pest Resistant Varietal Symposium
The International Symposium focused on new cultivars for disease resistance and increased sustainability took place on August 29th. This event is considered to be groundbreaking in the international viticulture industries. 
Growing healthy grapes for producing quality requires a lot of spraying in the vineyards, and the use of large quantities of pesticides, fungicides, herbicides, etc. Much effort has been done by the industry developing more environmentally friendly practices for sustainable viticulture. One of the most recent development in this field, is the use of new disease-resistant grape varieties; vines selected to resist to fungi and to produce quality wines. Across Europe, pioneering wine producers are leading the way and testing these new breeds of super-grape vines and producing wine from them. Some of those varieties and their performance are the focus of this symposium.
Keep an eye out for publications from this event which will be shared on our website and in our next newsletter. 
Michigan Wine Grape Commission
To view, download, or print the document above Click Here!
A Message from MWC President on the Michigan Wine Grape Commission


MWC Sponsors the Eastern Winery Exposition
Planning for the 8th Annual Eastern Winery Exposition is underway! This is the largest production wine and grape trade show and conference in the Eastern United States. The event will take place next March 19th-March 21st in Syracuse, NY. MWC is honored to be sponsoring the much anticipated event and we are excited to announce members will receive 10% off seminar and/or trade show registration. The event will provide a wide selection of speakers, sessions, and workshops related to enology, viticulture, marketing, and technology. There is also a trade show with almost 200 exhibitors. 
MWC Member Showcase- August 2018
From Top Left; Willow Vineyards, St. Julian Winery, Fenn Valley Vineyards, and White Pine Winery
MWC cannot get enough of showcasing our members and their many accolades. We saw many of our producing members getting coverage this summer resulting in the Michigan wine industry gaining steam. This month we are sharing stories from the past month which caught our eye. Know something we don't? Share accolades, achievements, and events with us anytime and we will be happy to share your news! 
First up, Willow Vineyards in Suttons Bay had some special visitors which resulted in this glowing article. Not only were Willow's 'delicious vino' highlighted but beautiful views and atmosphere as well. To view the article Click Here!
Next up, St. Julian has been getting quite a bit of exposure due to their most impressive medal count following the Michigan Wine Competition. Not only did St. Julian bring home 34 medals but they also were awarded two 'Best in Class' medals. To learn more about medal winners and St. Julian's Best in Class wines Click Here! St. Julian also had some exciting news in the opening of their newest tasting room in Rockford. This is an exciting collaboration with Flo's Wood Fired Pizza who will be sharing the space with St. Julian. To learn more about the new location and Flo's Click Here!
Fenn Valley Vineyards and Wine Cellars made history this summer with the first Michigan wine in a can to have wide distribution. Trending internationally this summer, canned wine was the perfect accessory for summer. With Michigan's busy lake life, Michigan canned wine was a perfect pairing. Vino Blanco byFenn Valley was also a perfect pair for being housed in a can. Vino Blanco is 100% Seyval fashioned into a Vinho Verde styled wine complete with subtle salinity on a crisp finish which seems to make perfect sense right out of a can. To read more about this innovative product Click Here!
And finally White Pine Winery was covered byRichard Leahy in yet another glowing article this time focused on the Southwest Michigan wine industry and terroir. This article provided some great background on Dave Miller's experiences in the Michigan wine industry and how White Pine Winery came to fruition. Leahy also visited Fenn Valley and had some great thoughts on their current wine portfolio and some history. To read the article Click Here!
And just a reminder, feel free to send us content you think should be highlighted throughout the industry. Please reach out to us here!
We NEED You!
MWC has been making some big strides in areas ranging from marketing and promotion of our industry to exploring viticultural advancements, research opportunities, and apprenticeship programs. We need your help so we can accomplish even more. Let's collaborate! 
Many of our committees are recruiting volunteers to aid in achieving their many goals. To check out 2018 goals for committees Click Here! We are adding to these every day and looking for good ideas from you. 
Are you looking for specialized advertisement to the Michigan wine industry? We can help with that! We are currently accepting newsletter sponsors for 2019. For more information on sponsorship E-mail us!
Spread the word on Michigan Wine Collaborative! We are looking for new members to help propel us and the Michigan wine industry to the next frontier. Every fruitful recruitment by a current MWC member receives a thank you gift from us!
Member Satisfaction Survey Sent Out to Members
We need to hear from you! Only a small portion of our membership has completed the satisfaction survey. MWC wants to secure satisfaction from ALL members. Please take the Member Satisfaction Survey to help us define our goals and trajectory for the rest of 2018 and beyond. Let us know how we are doing. And as always, Thank you for being loyal and valued members of the Michigan Wine Collaborative.
Closing Thoughts from MWC President, Dave Miller
For more news and information, please visit us atwww.michiganwinecollaborative.com. If you haven't already please like us on Facebook, follow us on Instagram @michiganwinecollaborative, and on Twitter @MIWineCollab. We look forward to seeing you online! 
Cheers,  
Dave Miller, President 
Click Here to inquire about sponsorship opportunities with MWC.
Do you have an event, news, or accolade you would like published through MWC? E-mail Emily at   [email protected] to submit material.
Are you involved in any of MWC's valuable and dynamic committees? We are looking for motivated and industrious members to help our committees thrive. To request more information on available committee seats click here.
The Cold Climate committee is devoted to the support and innovation of cold climate varieties in Michigan. If you are interested in joining or if you have any questions please Contact Jessica.Meetings will take place the 3rd Monday of the month unless otherwise noted.  The next meeting for this committee is TBD in October. Call in information will be listed on Basecamp. Contact Us if you would like to be sent that information
Communications committee meeting call date is September 12 at 10am Call in information will be listed on Basecamp. Contact Us if you would like to be sent that information or to check in about the date of the call.  Any inquiries may be directed to committee chair Brian Lesperance.
Membership committee call date is September 25th at 9am. Call in information will be listed on Basecamp. Contact Us if you would like to be sent that information or to check in about the date of the call.  Any inquiries may be directed to committee chair Gina Shay.
Sustainability committee meeting is scheduled for Tuesday November 13th at 10am.  Call in information is listed on Basecamp. Contact Us if you would like to be sent that information. Any inquiries may be directed to committee chair Matt Moersch.
MWC cannot thank our members enough for supporting us and collaborating with us on the future of the Michigan wine industry. We need you to help us spread the word about MWC membership. Every member who cultivates a fruitful referral will receive a small thank you gift from MWC. 

Reminder that board meetings take place monthly. All members (voting and non-voting) are welcomed to attend. In addition, time is allotted for public comments or questions. The next board meeting is scheduled for October 2nd at 10 am. Board meetings will take place the first Tuesday of the month unless otherwise noted. For call-in information check Basecamp or contact us here.